Nagpur News : New team of Vidarbha chapter of Indian Radilology & Imaging Association (IRIA) for the year 2013-14 has been elected. The vidarbha chapter of IRIA is well known organization & serving society for last 31 years through its members.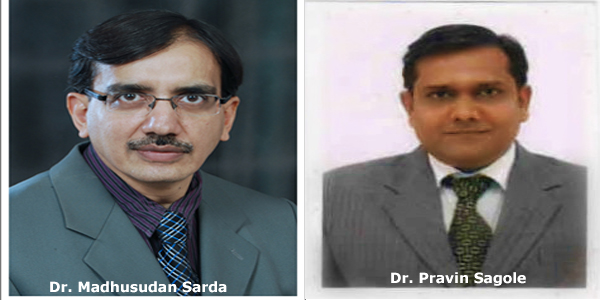 Dr. Madhusudan Sarda well known Radiologist from the city & Dr. Pravin Sagole an eminent Radiologist will be installed as President & Secretary respectively, while Dr. Amit Disawal, Assistant Professor, Deprtment of Radio-diagnosis, Govt. Medical College & Hospital will take charge as Treasurer
Other Officer bearer include
Vice Presidents: Dr. Prashant Onkar & Dr. Atul Tayade
Joint Secretary: Dr. Jitendra Vidhani & Dr. Varsha Sarda
Clinical Secretary: Dr. Sandeep M. Mahajan & Dr. Sandeep Dhote
Executive Members:
1. Dr. Harish Chandak
2. Dr. Sunil Bhelekar
3. Dr. Mrs. Bhavana Sonawane
4. Dr. Dinesh Singh
5. Dr. Rajesh Mundhada
6. Dr. Ulhas Mahajan, Khaparkheda
7. Dr. V.V. Lokhande, Wardha
8. Dr. Ravindra Kalode, Amravati
9. Dr. Navalkishor Rathi, Chandrapur
10. Dr. Satyajeet Hade, Akola
11. Dr. Jitendra Sahu
Dr Kishor Taori, Prof and Head, Department of Radio-diagnosis, Govt. Medical College and Chairman, Maharashtra Medical Council along with Dr. Suresh Chandak, Senior Radiologists congratulated the new team.
A full day CEM on Gastrointestinal Imaging is also being organised on the installation day. A team led by Dr Anirudha Kohli from Breach Candy Hospital Mumbai will deliver talks in the CME on 28th of April. Dr. Kajal Mitra, President & Dr. Avinash Dhok, Secretary requested all the members of Vidarbha chapter of MSBIRIA to attend the installation ceremony and academic sessions.