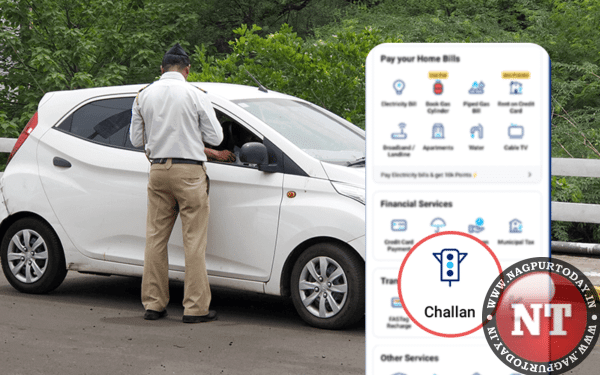 Nagpur: It has been found and reported many times that traffic cops often stand behind a tree instead of standing at a signal and recover money to let off the violators. However, it has come to light that now the police have adopted a new tactic for recovery and are giving their own QR code and instead of going to the account of the Police Department, they are directly depositing the challan money into their own account, a report in Marathi daily Sakal claimed.
Every day in Nagpur city, action is taken against hundreds of vehicles at intersections for driving without helmets, breaking signals and various traffic violations. In this, at least 20 to 25 challans are processed at every square of the city. A device is provided to the traffic police for action. By this device, as soon as the traffic policeman takes a photo of the vehicle number, police get the information about how many challans are pending on that vehicle.
Then a 'link' appears on the device to pay the challan. As soon as the QR code sent through that link is scanned, the citizen receives a message on the mobile phone that the challan has been paid. However, it has been noticed that some policemen, while recovering the challan, give the QR code of their own account and transfer the money to their own account, the report claimed.
Many have not received the receipt of such challan money. Therefore, a question mark is being raised on the work of the traffic police. Meanwhile, when Deputy Commissioner of Traffic Police Chetna Tidke was contacted by the newspaper in this matter, she explained that an investigation will be conducted after asking for information.
An incident:
A challan action was taken against a person at a busy place in Nagpur city. In this action, a traffic police officer collected a challan of Rs.760 from him. He provided his own QR code to scan it. Moreover, he said that the person will receive the receipt. However, even after a month, the receipt was not received. Subsequently, the matter was reported to the Traffic Police Department. However, they informed that the challan money cannot be collected personally.