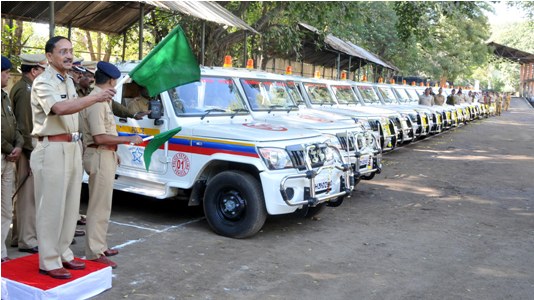 Nagpur News :
In a move to contain crime activities in the city, around 23 police stations in Nagpur have been provided with special mobile vehicles on Thursday. Police Commissioner Kaushal Kishore Pathak dedicated these vehicles to the concerned police station incharge.
Initially, these mobile vans would remain in service for 12 hours which would be further pressed into service for 24 hours.
Citizens often complain of police reaching the crime scene quite late. The commissioner has tried to fix the problem by fleeting in the fresh batch of vehicles.
Three areas in the city have been earmarked where the patrolling vans would be deputed for 4 hours each. Each vehicle would have an officer and three policemen. The police team would park the vehicle and patrol by walking around the area. In case of any crime, the vehicle would be immediately rushed to the scene.
The vehicles would be kept under deputy commissioner or control room and the cops deputed on these could only be changed after deputy commissioner's permission.
The patrol vehicles also bear the number of police control room and helpline numbers.