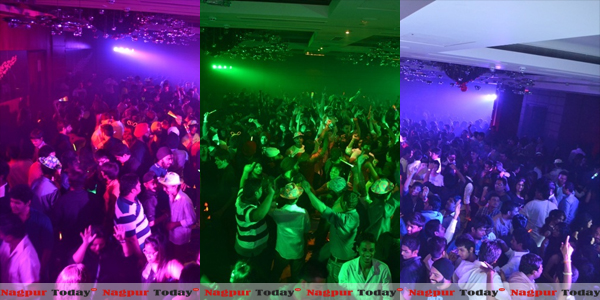 As the dusk fell and darkness went all around, neon waves came to accompany friends of Nagpur and what followed was whole lot of mastiand fun along with elegance and style. The Friendship Day scene at Hotel Radisson Blu marked a step ahead in theme parties in the city. Added to that was the glitz and glamour clubbed soulfully with the colorful attire of girls and guys.
The event was organised by DJ Sharry, Audio Vibes in association with the Knight Creepers.The venue was filled with elegantly dressed guests whose magnetic attires made every head turn around. The invitees at the neon party sure had incredible fun as they mingled around.
As the party mood set in, the craze refused to melt down.
DJ Kareen and DJ Sharry who played the Bollywood tracks gripped the crowd.  With more than 2000 creatures in the neon world, the foot tapping electronic dance music played by DJ Montz, and groovy hip hop numbers by DJ Ankush, DJ Gordan, DJ Mac, DJ Mayank and DJ Crabs made heads spin 'Right round' and ribbed the fun mood!
Towards the end, party turned into a festival of fun, that proved to be a huge bash for Nagpurites. All folks had this one word for the party environment 'Fantabulous'!
-RITU WALIA  
PICS BY : AMOL
To Cover Events/Parties Call us on – 9545627978 or email us at news@nagpurtoday.in