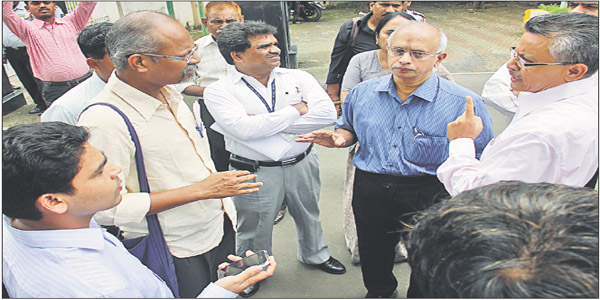 Nagpur News: Citing reason of maligning reputation of the institute, the National Environmental Engineering Research Institute (Neeri) restrained scientist Manish Rahate from entering the premises. When Rahate tried to enter the premises along with social activist Jammu Anand, security guards stopped him from doing so.
Neeri was in news due to allegations levelled by Manish Rahate, who had claimed that environment is being polluted by Neeri which itself works for environment preservation. He has alleged that NEERI had stored chemical waste on large scale and it is dangerous for environment and rules are not being followed. ( Nagpur Today first reported this – Read )
Later, Neeri prevented him from entering its premises.
Rahate tried to enter the premises again but was stopped by the security guards. Senior officials on behalf of Neeri management met Jammu Anand at the entrance gate only. They told Anand about reasons behind stopping Rahate from entering premises.
The management said that Rahate has tried to malign the reputation of internationally renowned NEERI and has violated rules. Action as per code of conduct has been taken against him.
Meanwhile, Rahate said that a complaint against Neeri has been filed in police and he cannot be stopped from entering the premises.