Need Aggressive strategy to combat Naxalism : CM Fadnavis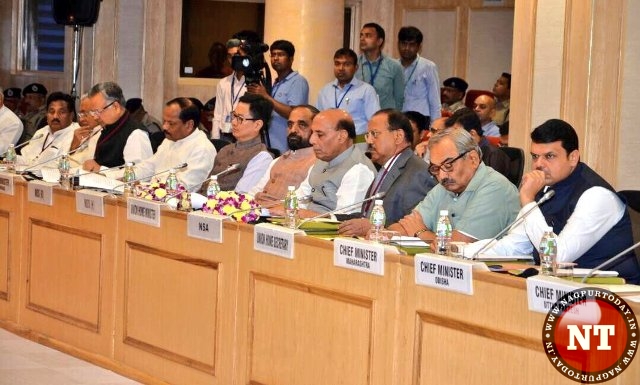 Nagpur/New Delhi: The Maharashtra Chief Minister, Devendra Fadnavis said an aggressive strategy needs to be developed to combat naxalism in the state. Use of communication technology and 360 degree connectivity is of paramount importance in this regard, he said.
Fadnavis said this while talking to media persons after attending a review meeting on Left Wing Extremism (LWE) under the Chairmanship of Home Minister, Rajnath Singh at Vigyan Bhavan in New Delhi today. All regulators are with Central Government and they need to give focused approach towards cutting edge technology at right time, he added.
Earlier, while speaking at the meeting, the Chief Minister requested to the Centre to release the projected funds under SRE and also asked for reimbursement of expenditure of Rs.45 crore incurred by State Government for the financial year -2016-17 . He also demanded provision of budget for the financial year 2017-18 so that resources crunch does not become an impediment in the fight against naxals.
While listing steps taken for managing security at the mining site in the state, Fadnavis demanded that at least two battalions of CAPF should be provided to look after site and transport corridor security for a two year period from spetmenber 2017 onwards.
He said, to overcome shortage of Mine protected vehicles, 39 such vehicles have been approved for naxal affected areas while the Police Force has been provided with sufficient arms and ammunition. In addition, 10 Police Station have been constructed in Naxal affected area and in Phase 2 there is proposal for creation and fortification of 35 police post in these areas.
Fadnavis also asked for permission to meet the hiring charges of helicopter under SRE budgetary provision and Night landing and flying for injured jawans. Stating that propaganda fights by naxal organizations are not in Gadchiroli or Sukma but in the Universities of Delhi, Pune or Patna, he said a strategy is needed to tackle this on priority basis.
The meeting was attended by Chief Ministers of Bihar, Uttar Pradesh, Oddisha, Chattisgargh & Jharkhand besides Chief Secretaries, DGP's, & Collectors of Naxal-affected States.