NCP stages "Thali Naad Hallabol" agitation against rising prices


Nagpur: The City Unit of Nationalist Congress Party (NCP), led by its President Anil Deshmukh, on Tuesday resorted to "Thali Naad Hallabol" agitation against rising prices. The activists and leaders of the party including President of Maharashtra Unit's Women's Wing Chitratai Wagh, MLC Prakash Gajbhiye, Pradesh General Secretary Ajay Patil, former MLA Dinanath Padole, Corporator Pragati Patil, officer-bearers and others gathered near Akashwani Square at 3 pm and handed over a memorandum to District Collector Sachin Kurve.
The NCP leaders and activists shouted high-pitched slogans such as "Polkhol-Polkhol, Bol, Hallabol, Hallabol" and sounded "Thali Naad" against the Government before meeting the District Collector. Speaking on the occasion, Chitratai Wagh said that the BJP Government is ruling at the Centre since the past one and a half years while BJP-Shiv Sena combine is completing one year on October 31. During the election campaigns, the BJP had promised the people of bringing the inflation down. But instead of controlling the rising prices, the inflation is increasing day by day mainly due to wrong policies of the Government. Farmers and people of the State are suffering the brunt and the insensitive Government is playing the role of silent spectator, lambasted the NMC leader.
On the occasion, City NCP President Anil Deshmukh, MLC Prakash Gajbhiye, State General Secretary Ajay Patil also addressed the protesters.
"People are suffering due to rising prices and the Government is in deep slumber as it is not initiating any steps to control the inflation. That is why the "Thali Naad Hallabol" agitation is being organized to wake up the slumbering Government. Acting late against the pulses hoarders the Government is now claiming to have brought down the prices. Why such action was not taken two months ago? Because the Government is in deep sleep. Therefore, the NCP is organizing the "Hallabol" agitation and the protest  will continue till October 31 across the State," declared the leaders.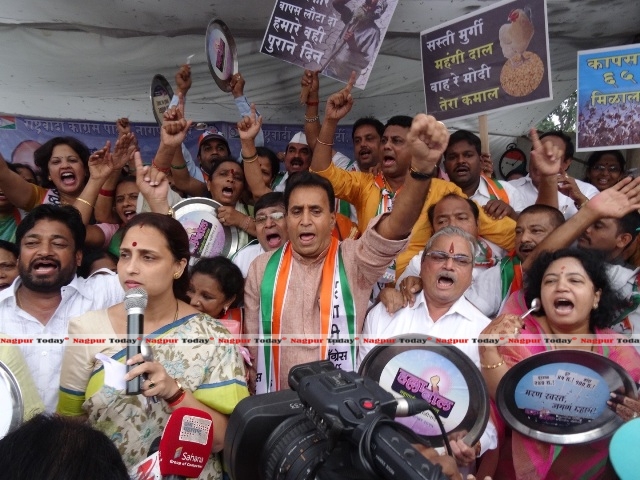 Others who participated in the agitation include Raman Thawkar, Corporators Kamil Ansari, Duneshwar Pethe, Sunil Raut, City Women's President Babita Meher, Rajesh Kumbhalkar, Pankaj Thakre, Raju Nagulwar, Kalpana Mankar, Devidas Ghode, Ravi Gadge Patil, Munna Tiwari, Wajid Bhai, Piru Mohammed and other activists in large number.