Nagpur News : Infuriated by the callous attitude of Nagpur Municipal Corporation (NMC) towards incomplete construction of cement roads, degrading condition of Star buses, traffic signals and other civic problems, the members of Nationalist Congress Party (NCP) gheraoed mayor Anil Sole.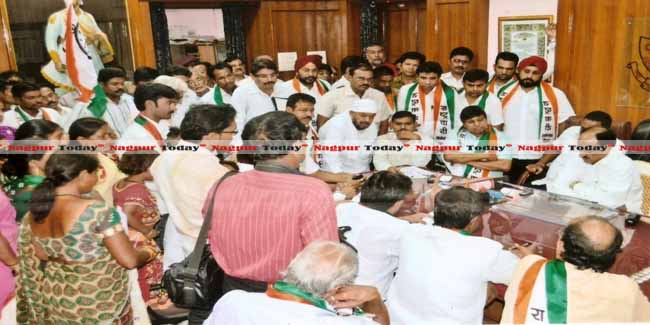 Coming under the leadership of NCP city chief Ajay Patil, the party representatives pointed out that though BJP has promised to solve all hardships faced by the citizens, it failed to do so.
They added that the electricity department is busy cutting the trees planted on NMC roads. Also, proper health check-ups of drivers and conductors of Star buses should be done to avoid the increasing number of accidents.
After hearing out their complaints, Sole assured that he will solve all the problems shortly. Various NCP members including Prakash Gajbhiye, Kamil Ansari, Ishwar Baalbuddhe, Rakesh Kumbhalkar, Vijay Talewar, Mahendra Bhange, Prashant Bankar, Tanuj Chaube were present.