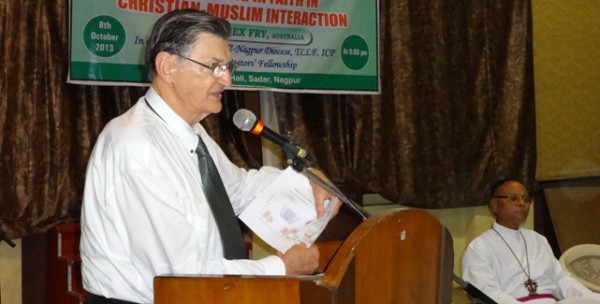 Nagpur News.
The Commission on Unity, Mission and Evangelism of the National Council of Churches in India jointly by the Church of North India, Nagpur Diocese, India Peace Centre, Trinity Living Light Fellowship and Nagpur Pastors' Fellowship on the October 8, 2013 at the   Chatterton Hall of the All Saints Cathedral, Nagpur organized an interfaith session on "Responding in Faith in Christian Muslim Dialogue" by a world renowned dialogist Dr Ian Rex Fry from Australia.
Senior priest Rev. Anand Michael offered an opening prayer and General Secretary of NCCI Rev. Dr. Roger Gaikwad extended an ecumenical welcome followed by an introduction by the Executive Secretary, Commission on Unity, Mission & Evangelism, NCCI, Rev. Dr. Solomon Rongpi.
CNI Bishop in Nagpur, Rt. Rev. Dr. Paul Dupare in his presidential address invited all communities and churches in particular to be open to the neighbours of different faiths and ideologies. He added that no faith either should discriminate or stigmatize others in the name of faith.
In his keynote address Dr. Ian Rex Fry stated that the Abrahamic covenant is the divine base and focal point for Muslim-Christian dialogue. He opined that the relationship between the worshipper and the worshiped is a personal matter and helps one to understand that the inter-personal relationships and enables the humanity to live in peaceful co-existence. That the circumstances of an inversion in the relationships between two great power blocs are consistent with the application of the penal clauses of each of the divine covenants. Therefore he said dialogue is nothing but a faith expression.
Pastor and Dalit theologian Rev. Dr. Roshan Jambhale, Secularist and Academician Prof. Dr. Mrinalini Fadvanis and Islamic Scholar Prof. Dr. Mohamad Yusuf responded to the lector. All these respondents gave emphasis to consider a dialogue of life where each and every one would recognize and accept every faith and ideologists as they are. It makes no sense till we opt for a dialogue for life and every faith and ideology to promote the same they said. Director, India Peace Centre Kasta Dip proposed the vote of thanks. There were 65 participants from various faiths and ideological backgrounds and professions including Jains, Hindus, Muslims, Sikhs, Christians and communists.