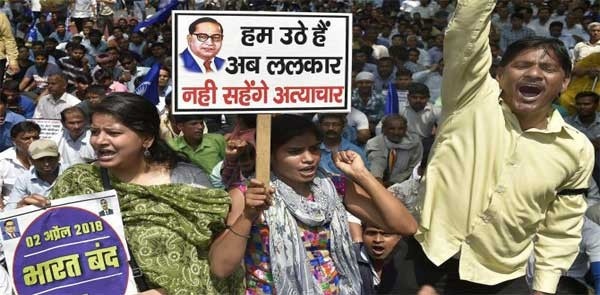 Bharatiya Janata Party MP and Dalit leader Udit Raj today questioned the claim that Naxals were behind the violence in Bhima Koregaon, saying it amounted to 'insulting' Dalit icon Dr B R Ambedkar's followers gathered there and instead blamed some Hindutva leaders for vitiating the atmosphere prior to the incident.
Days after the Pune police arrested five persons with alleged Maoist links for the Bhima Koegaon violence, Udit Raj said he wondered if naxals are capable of mobilising lakhs of Dalits.
There is frustration and anger in the community that had voted for the BJP with a lot of expectations in 2014, he said, adding the party needs to identify the reasons behind this so that it can make amends before the next Lok Sabha polls in 2019.He said he had recently met party president Amit Shah over Dalit issues and given his suggestions.He accused Hindutva leaders like Sambhaji Bhide and Milind Ekbote of vitiating the atmosphere for weeks prior to the incident.
Large number of Dalits had gathered to commemorate the 200th anniversary of the battle of Koregaon in which forces of the East India Company had defeated the the Peshwa's army. Dalits believe that Mahars, a scheduled caste, formed a major part of the company's army.
The BJP MP said there could be infiltration by some naxals but to suggest that they were behind the mobilisation of lakhs of Dalits was wrong."There could be naxal elements but can lakhs of Dalits who had gathered there be naxals or be mobilsed by naxalites?.. It amounts to insulting Ambedkar and Ambedkarites," he said.
Asked if blaming naxals for the violence amounted to insulting Ambedkarites- a term for the followers of Dalit icon Dr B R Ambedkar's principles- he said, "Of course."Naxal elements may be there and a thorough probe should be done, he said.
To a question about perceived anger among the Dalits, Udit Raj, a former IRS officer who also heads All India Confederation of SC/ST Organisations, said the BJP leadership should look into it.Only those who are accepted by the community as its leader can convey the party's and the government's views to it, he said, adding that a leader empowered by the party but not seen as their representatives by Dalits cannot do the job.