Navjyot Siddhu's campaign for Nitin Gadkari, 'Clap Hands' gets roaring response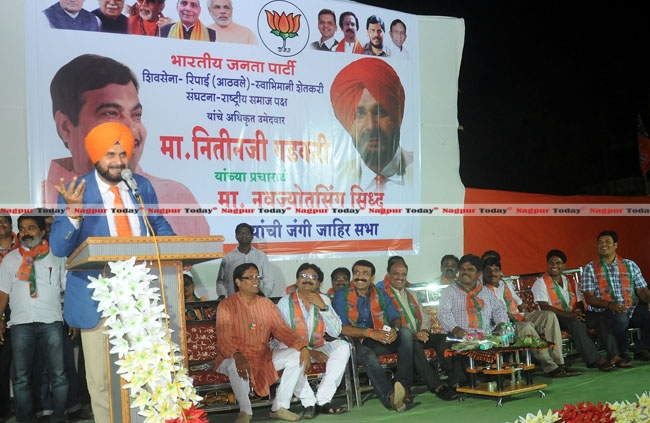 Nagpur News : The nation is standing on the threshold of  deterioration as Sonia Gandhi and Manmohan Singh led government has miserably failed to deliver the goods. The purpose for which Martyrs like Bhagatsingh, Sukhdev, Rajguru liberated the country has been totally forgotten by Congress government, lamented Navjyot Siddhu. If you want to realise the dream of re-structuring  the nation you must believe in visionary like Nitin Gadkari and conservative leadership of Narendra Modi, said the famous cricketer and MP, Navjyot Siddhu in a BJP meeting. He held public  meetings at three places in his election campaign of BJP Lok Sabha candidate, Nitin Gadkari.
At a meeting held in north Nagpur, near Kamal chowk, he said now is the time to think seriously about whom to hand over the responsibility of steering nation in the right direction. It is earnest desire of every Indian to choose Narendra Modi as leader who has keen eye for development. The atmosphere is perceptible everywhere. He said the Nagpurians deserve high praise because they have a visionary like Nitin Gadkari as their leader. Nitin Gadkari is the only person who is definitely capable of bringing prosperity to city of Nagpur. In coming 5 years Nitin Gadkari can bring progress and development to Nagpur of next 100 years, confided Siddhu.
There was huge response from youngsters to Sidhu's timely two-liners/couplets , shero shayari as is well known. In south Nagpur at Dighori square and in west Nagpur at Bhende layout ground his meetings received tremendous response. The slogans raised in favour of Nitin Gadkari rent the air.
Girish Vyas, Navneetsingh Tuli, Viccky Kukreja, Rani Dwivedi, Shiv Sena district chief, Shekhar
Sawarbandhe, MLA Sudhir Parve, mayor Anil Sole , Sandeep Joshi, Kishor Wankhede, Sudhakar Kohle, Dr Chhotu Bhoyar and other BJP office-bearers were present in large numbers at the meetings.