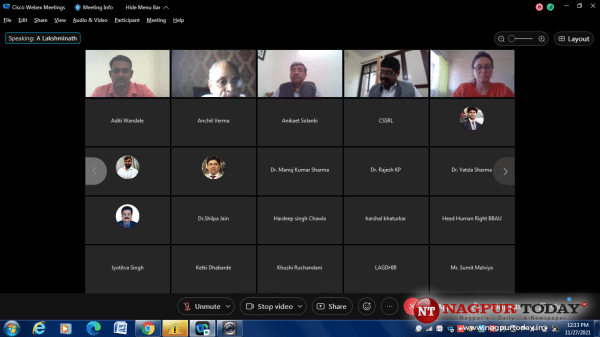 Nagpur: The International Quality Assurance Cell (IQAC) of Maharashtra National Law University (MNLU), Nagpur held a national webinar on "A Journey from Dharmoprudence to Demoprudence" on 27th November 2021 Prof. (Dr), A. Lakshminath, Former Vice-Chancellor of CNLU Patna, virtually addressed the webinar organized under the guidance of Prof (Dr.) Vijender Kumar, Vice- Chancellor o MNLU, Nagpur.
Prof. (Dr), A. Lakshminath discussed various diverse aspects of Dharmoprudence and its relevance in many fields. He deliberated on sovereignty, social contract theory, and deliberative democracy. Dharma and its association with the code of conduct were discussed by the chair. He stated that in Gandhari from Mahabharata is the first judge as she emphasized yoto dharma tato Jaya. He also gave various examples from Arthshastra, Smritis, and Sutras.
"प्रजासुखेसुखंराज्ञःप्रजानाञ्चहितेहितम्।
नात्मप्रियंहितंतस्यप्रजानांतुप्रियंहितम्"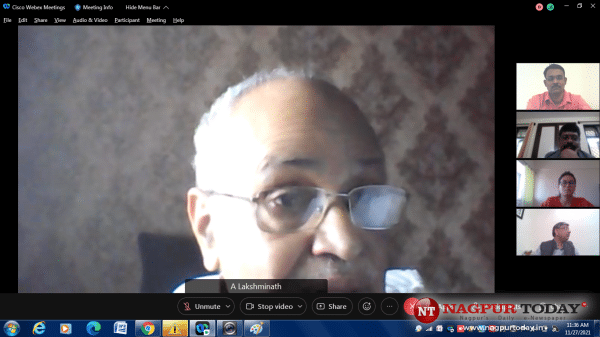 With these words of Arthshstra, he highlighted the role of the Supreme Court, social movements, relative truth, and so on. Voice of voiceless, social voice, political voice, responsible responsibility among other aspects were discussed in detail. He traced the journey of Dharmoprudence to Demoprudence. In India, democratic principles were core values since ancient times. He emphasized that legislation is a product and legitimization is a process.
He said that Chanakya introduced social engineering in India and it then carried forward in the Indian Democratic system. Social Movements and the role of the Supreme Court are important contributors in upholding democratic values. He concluded that Raj Dharma, Vyavhara, and public good have been present in Dharmopruduce and Demoprudence. Prof. (Dr.) V. P Tiwari introduced the University and welcome the guest. The moderator of the programme, Ms. Nitu Kumari, introduced the guest speaker.