National Science Day organised at Govt. Dental College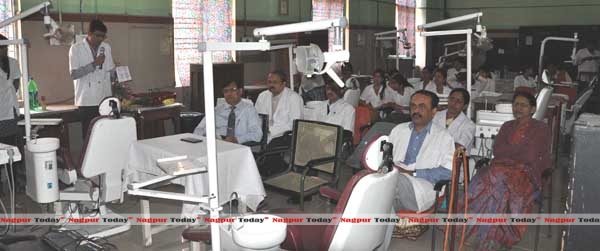 Nagpur News : National Science Day was organised recently by Govt Dental College and Hospital, Nagpur to mark the discovery of the Raman Effect by Indian physicist Sir Chandrasekhar Venkat Raman on on February 28, 1928. A 2nd Lunch Box Continuing Dental Education (CDE) on the topic Implant Supported Mandibular Overdenture was organised on the occasion of National Science Day. Dean of Institute Dr Vinay Hazarey talked about the importance of National Science Day and guided the students.
Implant supported dentures including either complete overdentures or a hybrid prosthesis significantly improves the quality of life for edentulous patients compared with conventional removable complete dentures. Consensus statements (made by the expert teams) in 2002, 2009 and 2011 from symposium in Canada, England and US respectively suggested that the first choice standard of care for an edentulous mandible should be the 2-Implant Retained Mandibular Overdenre. The common people can afford to undergo the similar standard of care by placing two/one implants for retaining complete denture, informed Dr Hazarey.
He further added that young dental professionals must be kept updated with recent technologies in profession and also in capacity building and personality development. The Lunch Box CDE programme is to update the knowledge of UG/PG students during the Lunch Time. Academic topics with clinical / practical significance can be selected, preferably special clinical cases. The clinical procedures can be performed by the experts in the department within one hour of live/recorded video demonstration. This concept may lead to sharing ideas during lunch.
Under the 2nd Lunch Box CDE programme, Dr Pravinkumar Patil, Assistant Professor from the Department of Prosthodontics, gave the live video demonstration for Implant Supported Mandibular Overdenture. Dr Arun Khalikar HoD, Dr Sattyam Wankhede, Dr Vaibhav Kamble, Dr Bipin Muley, Dr Sushant Patil and Dr Nitesh Shrivastava worked hard to make the programme  a grand success. About 60 young dental aspirants participated in this second Lunch Box CDE Programme. Dr Pravinkumar Patil gave live demonstration.