Congress always worked for uplift of poor, common people, says Vilas Muttemwar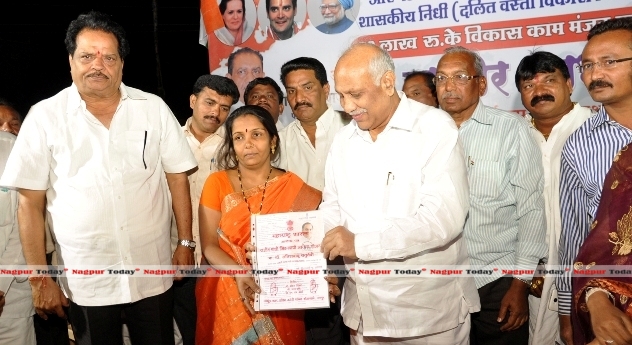 Nagpur Today.
The citizens of Hiwri Nagar, Babulban in Ward No. 37 under East Nagpur Assembly segment organized a thanks giving meeting. The meeting thanked the Maharashtra Government for sanctioning Rs 60 lakh under Dalit Slums Improvement and Excessive Rain Relief Scheme. A "Bhoomipujan" function was also held on the occasion. Those present at the thanks giving meeting and "Bhoomipujan" function include Nagpur MP Vilas Muttemwar, former Guardian Minister of Nagpur District Satish Chaturvedi, Corporator Deepak Kapse, Purushottam Hazare, Vidya Lonare, Sanghapal Meshram, Onkar Gulwade, Harish Ramteke, Vinod Mandpe, Parmeshwar Raut, Block Congress President Purushottam Lonare, Gopal Shende, Ganesh Humne,  and others.
At the outset, a portrait of Dr Babasaheb Ambedkar was garlanded and "Bhoomipujan" was performed. Addressing the meeting, Vilas Muttemwar said, "Congress always worked for uplift of poor and common people. The Congress Government in Maharashtra, by its historic decision to distribute "Pattas" (Ownership certificates) to slum-dwellers, has proved that Congress is always with poor and common people. On the other hand, BJP only pretends to be with poor people. Whenever Congress takes a pro-poor decision, BJP puts hurdles in implementing the decision. The BJP is ruling the NMC for the past 10 years but not a single citizen-oriented decision has been taken by the party," said Muttemwar.
Satish Chaturvedi, in his speech, lamented that development in East Nagpur has been stalled for the past four and half year. "There has been no new development work in the area. On the contrary, the works started five years ago have not been completed. The people's representatives have been carrying out works in their own names when the State Government has provided funds. But the people will not anymore be fooled. They will teach lessons to those people's representatives in the coming elections," Chaturvedi said.
Muttemwar and Chaturvedi distributed the beneficiary cards to citizens under Rajiv Gandhi Jeevadayee Yojana. The programme was well attended by Congress activists and citizens in large number.