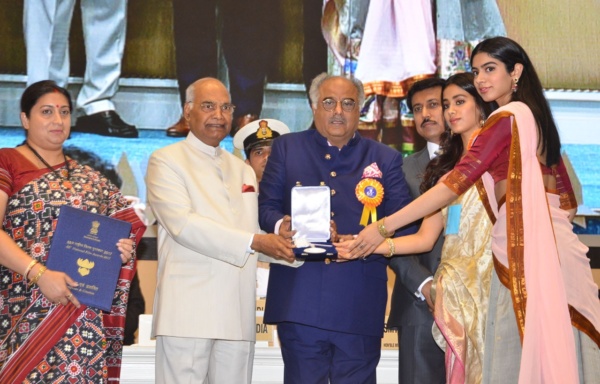 New Delhi: Two months after she died tragically, Sridevi's daughters Janhvi and Khushi and husband Boney Kapoor collected the late star's Best Actress National Award at a ceremony in New Delhi's Vigyan Bhawan on Thursday. Janhvi, an aspiring actress, wore one of her mother's sarees for what designer Manish Malhotra described on social media as an "emotional and precious moment." Sridevi, who drowned in Dubai in February, was honoured with her first ever National Award posthumously – she won Best Actress for her role in 2017 movie MOM, in which she played a mother seeking revenge for her daughter's rape. Ahead of the ceremony, Janhvi Kapoor told reporters, "I want to thank the jury and the government of India for recognising the hard work my mother has done. It is very special for us as a family," a news agency reports.
Sridevi's Chandni co-star Vinod Khanna, who died last year, was honoured with the Dadasaheb Phalke Award – India's highest film honour – and collecting the award was his son, actor Akshaye Khanna (who co-starred with Sridevi in MOM), and wife Kavita.
Other awardees included Assamese Film Village Rockstars, which won the National Award for Best Film while Riddhi Sen won Best Actor for his performance in Bengali film Nagar Kirtan. Rajkummar Rao's Newton won Best Hindi Film Award while crowd favourite Baahubali: The Conclusion also won in three categories.
And the Best Feature Film Award goes to the Assamese film Village Rockstars – a marvellous picturisation of a village girl who, with her vibrant spirit, achieves her dream of having her own rock band.#NationalFilmAwards pic.twitter.com/XWm3VFOGOg

— PIB India (@PIB_India) May 3, 2018
Riddhi Sen bags the Best Actor Award for the role displaying the complexities of a boy who changes his gender in the Bengali movie Nagarkirtan#NationalFilmAwards pic.twitter.com/pXk8icRHC6

— PIB India (@PIB_India) May 3, 2018
Sridevi's family flew into New Delhi for National Awards rehearsals a day ago. Speaking to DD News, Boney Kapoor said, "She would have been happy, very happy being here. We feel elated, proud that she's been recognised for the hard work she's put in in this film." Before the ceremony, he said "I wish she was here. She truly deserved this award. It's so unfortunate that she is not here with us today to celebrate. I am grateful to the government of India, the I&B Ministry and the jury. It is a proud moment for all of us but sadly she is not here," reports PTI.
The National Awards were presented by President Ram Nath Kovind, Information and Broadcasting (I&B) Minister Smriti Irani, Minister of State, I&B, Rajyavardhan Singh Rathore and I&B Secretary Narendra Kumar Sinha.
Here is the complete list of winners of the 65th National Film Awards:
Best Feature Film: Village Rockstars (Assamese)
Best Actress: Sridevi for MOM
Best Actor: Ridhhi Sen for Nagar Kirtan
Best Director: Jayaraj for Bhayanakam
Best Supporting Actress: Divya Dutta for Irada
Best Supporting Actor: Fahad Fazil for Thondimuthalum Driksakshiyum
Best Child Artiste: Bhanita Das for Village Rockstars
Best Popular Film: Baahubali: The Conclusion
Dada Saheb Phalke Award: Vinod Khanna
Best Action Direction: Baahubali 2
Best Choreography:Toilet: Ek Prem Katha (song: Gori Tu Latth Maar)
Best Special Effects: Baahubali: The Conclusion
Special Jury Award: Nagar Kirtan (Bengali)
Best Debut Film Of A Director: Sinjar (Jesari)
Best Short Film Fiction: Maiyat
Best Film On Family Values: Happy Birthday
Best Film for National Integration: Dhappa
Best Educational Film: The Girls We Were And The Women We Are
Best Anthropological Film: Name Place Animal Thing, Slave Genesis
Best Cinematography: Eye Test, Don
Best Adventure Film: Ladakh Chale Rickshaw Waale
Best Editing: Mrityubhoj
Best Music: Sword Of Liberty
Best Narration: The Lion Of Ladhakh
Best Book On Cinema: Matamgi Manipur
Best Critic On Cinema Award: Giridhar Jha, Special Mention to Sunil Mishra
Best Lyrics: March 22 (song: Mutthu Ratna)
Best Music Director: A R Rahman for Kaatru Veliyidai
Best Background Score: A R Rahman for MOM
Best Make-Up Artiste: Ram Razak for Nagar Kirtan
Best Costume: Govinda Mondal for Nagar Kirtan
Best Production Design: Santosh Rajan for Take Off
Best Editing: Village Rockstars
Best Sound Designer and Re-Recordist: Samuel George, Justin A Jose for Walking With The Film
Best On Location Sound Recordist: Unrserved
Best Location Sound: Mallika Das for Village Rockstars
Best Original Screenplay: Thondimuthalum Driksakshiyum
Best Adapted Screenplay: Bhayankam
Best Playback Singer (Female): Shasha Tirupati for Vaan Varuvaan) from Kaatru Veliyidai
Best Playback Singer (Male): Yesudas for Poyi Maranja Kaalam from Viswasapoorvam Mansoor
Special Mention Awards:
Maurkhiya (Marathi)
Hello Arsi(Odiya)
Parvathy for Take Off (Malyalam)
Pankaj Tripathy for Newton
Best Regional Films Awards
Best Hindi Film: Newton
Best Bengali Film: Mayurakshi
Best Ladakhi Film: Walking With The Wind
Best Tullu Film: Paddayi
Best Odiya Film: Hello Arsi
Best Marathi Film: Kaccha Nimbu
Best Malyalam Film: Thondimuthalum Driksakshiuam
Best Kannada Film: Hebbetu Ramakka
Best Jesari Film: Sinjar
Best Assamese Film: Ishu
Best Tamil Film: To Let
Best Telugu Film: Ghazi
Best Gujarati Film: Dhh
The winners of the National Film Awards were announced last month.