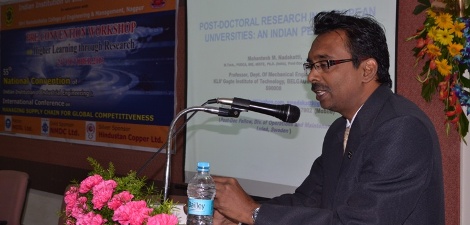 Nagpur News.
The 55th National Convention of Indian Institution of Industrial Engineering got underway on October 23, 2013 with the inauguration and the Pre-Convention workshop. The theme for the Pre-convention workshop was "Higher Education through Research" which was inaugurated by Professor of Industrial Engineering, IIT Kharagpur Dr. Pradip Kumar Ray.
The workshop started with lighting of the traditional lamp followed by the introductory speech of Principal of Shri Ramdeobaba College of Engineering & Management, Nagpur Dr. V.S. Deshpande, who briefed on the theme of the workshop. This was followed by Prof .Q. H. Jeevaji's address who compared the research culture of India with that of the western countries.
Chairman, National Council of IIIE Commander B.M.Bhandarkar briefed about the ensuing programmes to be held on October 25th and 26th.
It was followed by the Presidential speech of Govindlal Agrawal, General Secretary of Shri Ramdeobaba College of Engineering & Management, who emphasized the ongoing research and development process. He also stressed on the need of having inter-disciplinary research during his speech.
Sitting on the dais were Head of Mechanical Engineering Dr. K.N. Agrawal,  Head of Industrial Engineering Dr. M.M Gupta Dr. Neeta Shah, Head, Management technology and Dean R&D of Shri Ramdeobaba College of Enginneering & Management Dr. Chandan Vichoray.
Dean R&D Dr Chandan Vichoray proposed the vote of thanks while the proceedings were conducted by Prof. Pranjali Dongre and Prof. Rakshal Agrawal.