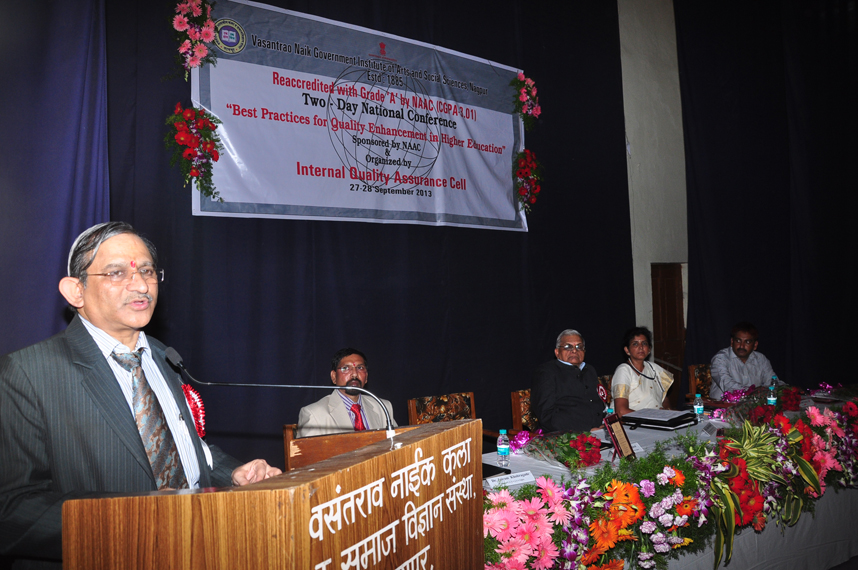 The Internal Quality Assurance Cell (IQAC) of Vasantrao Naik Govt. Institute of Arts and Social Sciences –Nagpur (Morris College) along with sponsorship from NAAC, organized a two day National conference on, "Best Practices for Quality Enhancement in Higher Education"
 The Inaugural session on 27th September 2013 morning with convener of National Conference and IQAC Co-coordinator Dr. Renu Bali introduced the theme of the conference. Chief Guest of the occasion Dr. Vilas Sapkal, Vice Chancellor, RTMNU said that all educational practices should lead towards Local relevance, National priorities and fulfill global goals.
 The Presidential Address by the Director of the Institute Dr. Jairam Khobragade said that we as of long standing strive toward excellence; he reiterated his commitment toward taking the opportunities and guidelines given by NAAC to set up a base for continuous up gradation and quality enhancement.
Key Note Speaker Prof. Aditya Prasad Padhi, Former Vice Chancellor, Sambalpur University, quoted vari Aristotle, emphasized on "quality is a habit" ideal for good teachers, to teach in such a way that they not only inspire the student but also instill aspirations which are important to promote quality. He pointed out the advantages of creating a strong body of stakeholders, like the alumna, parents and peers, to implement policies which promote knowledge in the Institute
There were three Plenary Sessions that started with a presentation by Dr MR Kurup, Consultant, World Bank. He spoke on "Higher Education: Reaching the Unreached for Socio-economic Transformation". He emphasized that, with 'Knowledge' emerging as a critical economic resource, universities, colleges and the academic fraternity are destined to contribute to both individual and national development.
The Second speaker Dr.Dilip Peshwe, Professor in Metallurgy and Materials Engineering, VNIT, he stressed upon the need to work on grass root level and to reach the unreachable he suggested simple self financing ways for which we don't need to rely upon any external funding agencies.
The Chairperson of the first session Dr.Sivaswaroop, Director, IGNOU, Nagpur Region, spoke about the status of higher education from 'open university' point of view. He shared his experience of educating the prisoners in Nagpur jail.
The second session was on "Library and Internet Lab, a major source of Modern Learning Resource". The three speakers were Dr. Mangala Hirwade Dr. Aswini Paradkar and Dr. Dr. Vaishali Gudadhe, Associate Professor and Head, Dept. of Library and Information Science, Sant Gadge Baba Amravati University, Amravati.
Plenary Session-III was on "Criteria Based Best Practices for Effective Quality Achievement".
       The main speaker of the session was Dr. Ramchandran T. Deshmukh, College Development Officer, MSP Mandal Aurangabad. He gave an informative presentation on "Introduction of Criteria- based Best Practices"
The day ended with a highly appreciated Cultural program by the students of the Institute.
       On the 28th of Sept.'13 Plenary Session IV was on "Role and use of Feedback from Academic peers, Students and other Stake holders in Reviewing and Redesigning Strategies"
Guest Speakers being Dr. Jyoti Shiwalkar and Dr. John Menachery, the Chairperson was Dr. Sandhya Nair, Principal, R.S.Mundle College of Arts and Commerce, Dharampeth.
Plenary Session V was on "Adaptation of Academic Strategy to make Languages and literature of traditions Impactful"
Plenary Session VI was the "Judicious Allocation and Effective Utilization of Finance of Educational Institutes" where the Guest Speakers Dr. Marvania Purushottam G, Professor, Dept. of Economics, Saurashtra University, Rajkot focused on continuous innovation and improvement these efforts which will evolve out of Best Practices. RG Jadhav, Joint Secretary, Technical Education Mantralaya Mumbai spoke about the various funding agencies and how to use this fund effectively. The Chairman for the session was Prof Vinayak Deshpande, Director, Departmant of Business Management RTM Nagpur University. Case Study Presentations were by Dr. Pramod K Lakhe, HOD of Economics, VNGIASS, Nagpur along with Dr. Harsha  Jharia-Vice Principal-  LAD College, Seminary Hills, Nagpur.
The program ended by a vote of thanks offered by Dr Kapil Singhel, the NAAC co-coordinator of the Institute. The Rapportteure for the program was Milly Baby of the Institute and the entire program was conducted by Audry Varma and Deepak Bhangde. The program ended with the rendition of the National Anthem.