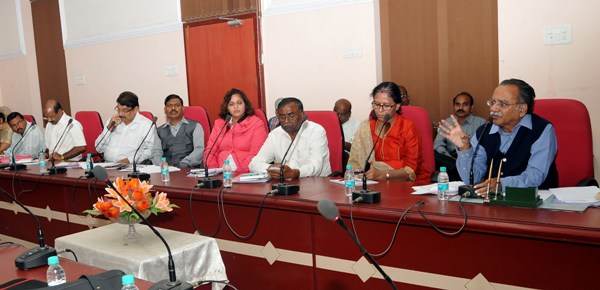 Nagpur News.
The Central Government and Maharashtra Government are jointly organizing the most magnificent Second National-level Agri Expo and Agri Melawa (Gathering) at Central Institute for Cotton Research (CICR) on Wardha Road, Nagpur from February 9 to 13 to mark the 100th Birth Anniversary of late Vasantrao Naik. The Agri Expo will be held on 45-acre land and major companies in the field of agriculture and associated sectors from each State would erect their stalls. Around 50,000-60,000 farmers from all over India will visit the exhibition daily, informed Additional Chief Secretary of Agriculture and Marketing, Maharashtra Government.
The Agri Expo will be inaugurated by President of India Pranab Mukherjee.
A high-level meeting, presided over by Divisional Commissioner Venugopal Reddy, on Wednesday reviewed pre-arrangements for the Second National Agri Expo being held on from February 9 to 13 in Nagpur. The Chairmen of different Committees formed for the purpose were present at the meeting including Electricity Supply Committee, Water Supply and Sanitation Committee, Food Arrangement Committee, Transport Arrangement Committee, Lodging Arrangements Committee.
The Divisional Commissioner directed the concerned officials to make well-planned lodging and transport arrangements for farmers coming from across the nation. Similarly, Health Committee should make proper arrangements for health services at the place of Agri Expo and Agri Melawa. Every Committee should coordinate with each other for success of the major event, the Divisional Commissioner said.
Other officials present at the meeting include NMC Commissioner Shyam Wardhane, District Collector Saurabh Rao, Deputy Commissioner S G Gautam, Divisional Agriculture Assistant Director Vijay Ghavte, Dr Panjabrao Deshmukh Agriculture University's Expansion Education Director V G Nagdevate, Regional Transport Officer Sarjerao Shelke, Health Deputy Director Dr P B Das, Regional Animal Husbandry Assistant Commissioner Dr M Moinuddin, Executive Engineer MSEDCL and others.