Nation Bids Farewell to Atal Bihari Vajpayee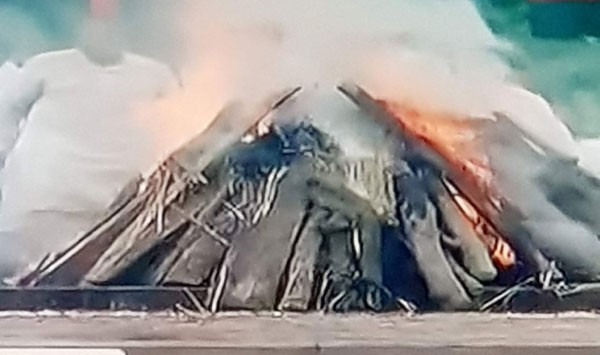 New Delhi: Former prime minister Atal Bihari Vajpayee, a titan in Indian politics, was given the highest national send-off today with politicians across the spectrum and foreign dignitaries attending his funeral held with state honours on the banks of the river Yamuna in Delhi. Mr Vajpayee's foster daughter Namita Bhattacharya lit the funeral pyre as a 21-gun salute went off at the Smriti Sthal.
A sea of people had followed Mr Vajpayee's funeral procession from the headquarters of the ruling BJP, the party he helped form in 1980. Prime Minister Narendra Modi walked the entire four km stretch behind the flower-decked gun carriage, along with other top BJP leaders and ministers.
A massive crowd chanted "long live Atal-ji" and showered rose petals on the glass casket carrying the three-time prime minister, who died yesterday after a long illness.
"I am speechless, numb," PM Modi had said, expressing his grief. "It's like losing a father."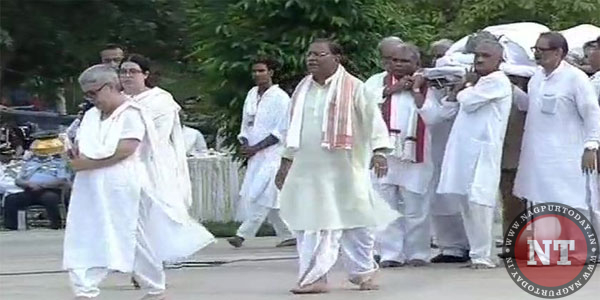 He surprised many today by joining the procession from the BJP office to the Smriti Sthal, which is located close to the memorials of former prime ministers Jawaharlal Nehru and Lal Bahadur Shastri.
Former prime minister Manmohan Singh, Congress president Rahul Gandhi and politicians from various parties attended the funeral. Foreign dignitaries like the King of Bhutan and Afghanistan's Hamid Karzai were also present.
The former PM's body was kept overnight at his bungalow on Krishna Menon road, where he spent the last few years away from public life. From there, it was taken with military honours to the BJP office. The BJP patriarch could never visit the new, sprawling headquarters symbolic of the rise of the party he nurtured for decades.
Mr Vajpayee, who ruled the country thrice in the 1990s, had retreated from politics over the last few years because of his health.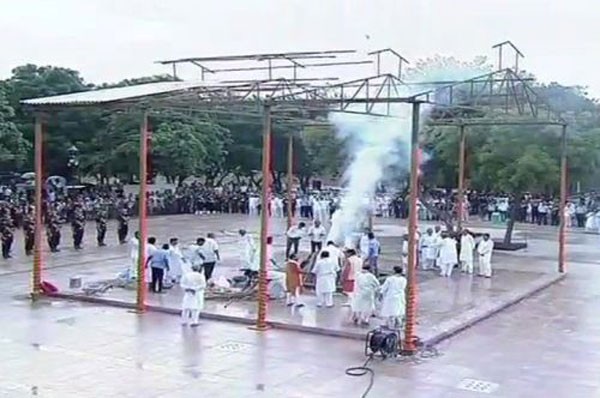 It was widely reported that the former prime minister had a stroke in 2009 that severely affected his ability to speak and confined him to his home.
Mr Vajpayee was the first non-Congress leader since India's independence in 1947 to complete an entire term in office as head of a BJP-led ruling alliance between March 1998 and May 2004. He was admired by friends and rivals alike for his rich oratory, his poetic jibes and his statesmanship.