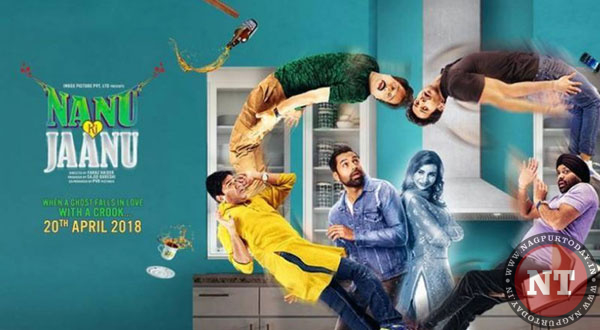 Nanu Ki Jaanu is an experimental film that ends up becoming way too adventurous. It is good when a filmmaker tries to tell a new story. Yes, it's the remake of a film down South but still for an all-India audience this is a new adventure for sure. However, in the process of making it a roller coaster ride, filmmaker Faraz Haider picks up way too many chapters which become cumbersome to be tied together eventually.
As a kind hearted goon, Abhay Deol is in good form at least during the first half of the film. As he along with his partner-in-crime Manu Rishi Chadha go around Delhi flat owners and intimidate them to let go off their properties at a low price, you do get familiar with his modus operandi. The accident involving Patralekha brings a twist in the tale and while that is dramatic to the core, the comic portions which follow do bring in several uproarious moments.
This is where the film actually peaks since the dilemma faced by Abhay is well treated and the scenes involving Manu Rishi are a complete riot. The after effect of the duo witnessing 'bhoot' in the house actually gets the house down and you look forward to an entertaining second half.
However the film turns out to be something else in this part. From being a comedy, the film turns into a whodunit as the focus moves towards what caused Patralekha's accident. There is so much focus on this side of the story that you end up wondering why an accident is being seen as a killing. This isn't all as several characters come into the fray, be it Rajesh Sharma, Manoj Pahwa, Himani Shivpuri, Brijendra Kala, a little girl, an abusive wife beater, an opportunist neighbor, and so on.
This isn't all as several scenes in the middle of the second half just don't fit in, especially the one around 'maata ka jaagran' which is forced. More adventures seem misplaced, especially when a bizarre love story begins to develop between Abhay and Patralekha. You are further amazed when a love song arrives as well in the middle of some truly serious moments. The cake is taken by the climax but then by this time around you have adjusted to the fact that the director has a certain vision in mind around the film, which didn't necessarily resonate with what majority of audiences could possibly comprehend. What audiences do take home though is the camaraderie between Abhay and Manu Rishi, and also the sequences leading to the interval point that do manage to bring in laughs.