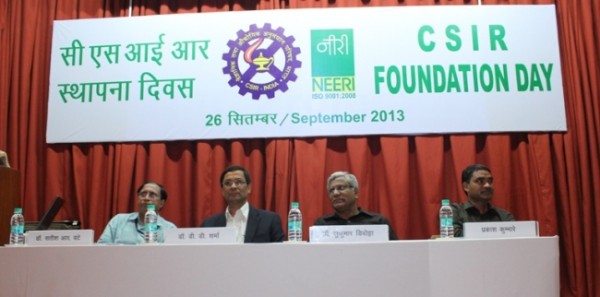 Nagpur News.
The world renowned and the pride of Nagpur, National Environmental Engineering and Research Institute (NEERI) celebrated 71st CSIR Foundation Day with Prof  Dipankar Sarma, Professor and Chairman, Solid State and Structural Chemistry Unit, Indian Institute of Science, Bangalore being the chief guest.
In his speech, Dr Sarma said, "my target audience are the students here, who are the future and will make difference considerably. Asking questions is the beginning of science, it is important to ask questions and to know when to ask."
The  theme of the lecture was 'Optical properties of semiconductor nano particles' and the complex scientific notions were moulded into simple and subtle words that were nothing but listener friendly.
He took the audience to the amazing world of nano science with slide shows describing how objects are known by colors and how with nano technology  we can play with nature. Nanotechnology has a lot of potential and nano particles can be a beacon in medical diagnosis.
During the day laying of the foundation stone of "Green Building" at the hands of the Chief Guest Dr Sarma was held .He also inaugurated the science model exhibition in the silver jubilee building .
The programs welcome address was given by Dr Satish R. Wate, (Dir NEERI). A virtual inauguration of  E-version of CSIR-NEERI's annual report  2012-13 at hands Dr sarma . A book 'Dioxins and Furans' by N.P  Thacker & S. Devotta  was also released .
CSIR –NEERI employees and their children were felicitated during the program. Certificates were distributed to the students  who  participated in the Science Models exhibition.
Dr Satish R.Wate, (Director NEERI) speaking on the occasion said, we want to take the technology to the people and reach out to the people with solutions and further added that CISR will play a huge role in country's development in the future .