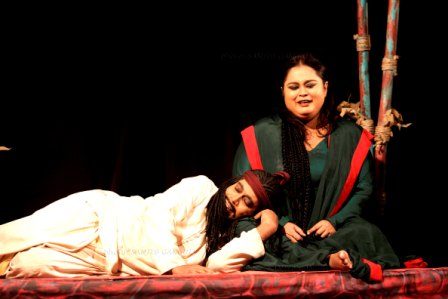 Nagpur News: Famous Kolkata- based theatre group Nandikar had the 114th performance of their celebrated play "Madhavi" at Vasantrao Deshpande Memorial Hall in Nagpur city on Sunday. The play marked the final night of the three- day- long Bengali Drama Festival jointly organised by Bengali Education Society, Bengali Association and Paschim Nagpur Bangiya Samiti.
Scripted by Bhisham Sahni, "Madhavi" plays out a story from the Mahabharata which depicts the objectification of woman in a chauvinistic society in a dramatic, cruel and drastic manner. It is the story of Madhavi, the daughter of ruler- turned- sage Jajati and Galob, a disciple of Vishwamitra. Patriarchy, male pride, political ambition and lust are abound in the play as the protagonist is shunted from one man to another in a game of politics and barter, while all those who claim to love her bemoan her fate and do nothing. As in many other tales from the epic Mahabharata, the helplessness of a proud, strong woman in a setting such as this is very stark.
The treatment of the play is quite flamboyant. There are quite a few dance sequences that depict worship, playfulness, the joy of childbirth and the glory of Ashvamedha, among other things. The lead roles are played by Sohini Sengupta, Rudraprasad Sengupta and Debshankar Haldar. Swatilekha Sengupta directed the play.
-Meghna Majumdar