Nagzira on alert after armed men in Naxal outfits set a forest camp afire in core area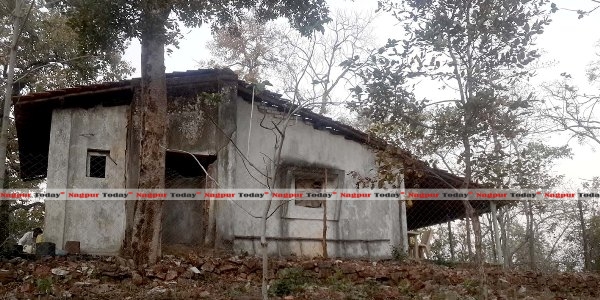 Nagpur News.
In a shocking incident, some unidentified armed people dressed as Maoist outlaws set afire a forest camp located in the core area of Nagzira Navegaon Tiger Reserve (NNTR). The Forest Department as well as law enforcement agencies have sounded alert in Gondia, Bhandara and nearby districts after the incident.
The reports have it that seven unidentified persons in olive green uniforms posing as Naxal outlaws reached the Pangdi camp in New Nagzira Wildlife Sanctuary at around 1.30 pm. As per forest sources, two of the seven people were carrying firearms. As two vanmajoors (forest employees) had gone to a fire tower near Pangdi camp for regular patrol, only one vanmajoor was inside the camp. The outlaws accosted vanmajoor Madaram Nilkanth Shyamkumar and thrashed him before setting the camp afire.  Madaram informed that the unidentified people wore scarves to hide their faces and were speaking a local dialect of Marathi. After the outlaws walked away, Madaram, resident of Umarzari in Sakoli tahsil of Bhandara District, rushed to nearby Kamkajhari camp near Sakoli-Tiroda tar road and gave wireless messages to Chanditibba watch tower and wildlife wing of Forest Department at Sakoli and Gondia.
Ashok Khune, DFO (Wildlife), Sakoli, who was on patrol near Chorkhamara rushed to the spot and investigated the crime scene. The statement of vanmajoor Madaram was recorded and he was sent to Tiroda police station for further investigation.
Speaking to Nagpur Today, DFO Ashok Khune corroborated the attack reports saying that various teams involving at least 15 forest personnel have launched combing operations in periphery of Nagzira Tiger Reserve. However DFO Khune rejected the Maoist theory saying that there were no signs of Maoist literature in area and as per vanmajoor's say the unidentified people were speaking a local dialect of Marathi.
"In past years, no Naxal movements were reported around Nagzira and these could be the poachers venting ire after the security has been beefed up in Navegaon Nagzira Tiger Reserve" said Mangesh Madawi, President of Eco Tourism Development Committee, Nagzira TR Circle who looks after the management of these camps.
Conservator of Forest Thawre said that alert has been sounded in and around the reserve and hoped that investigating teams will find out the truth behind the incident very soon.