Innovative appeal to vote finds many takers on WhatsApp space in Nagpur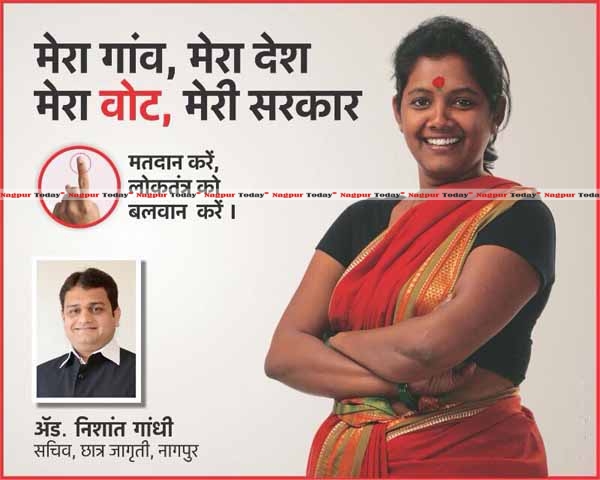 Nagpur News.
Everything in the town appears to be in the poll order these days and the web space is also occupied by election postings and related jokes. The social media space in Nagpur circle too is flooded with appeals local candidates are pulling to have the ball in their courts. In line up to these activities, WhatsApp – the worldwide networking mobile messenger has emerged as the hot tool to let the views flow freely across the web space.
Advocate Nishant Gandhi, a full time social activist who work for youth programmes under his organization Chhatra Jagruti has also floated couple of artworks that appeal the people to vote. Unique in its way, the designed appeal has been doing the rounds across WhatsApp. Gandhi has floated few caption oriented visual-boards to create awareness among the voters to ensure maximum votes polled in Nagpur parliamentary constituency and the neighbouring poll fields.
Talking to Nagpur Today, Gandhi shared the basic idea behind such an initiative. He said, "As a citizen we celebrate various festivals throughout the year with fervor and enthusiasm. But we need to understand that we are living in the biggest democratic society across the world, hence we should consider General Elections as the biggest festival across all the religions, and make sure mark it with exercising our right to vote."
He added, "Like different religions preach holy books like Gita, Quran, Bible and Guru Granth Sahib, the Indian Constitution is the book of every citizen. We have our own set of rights and duties prescribed in this book. While we are inclined towards having our rights, we should be equally responsible towards our duties, which is not the practice in general. And to vote is not only our constitutional right but our valid duty too."
The innovative artworks appeal the votes through message oriented themes. One the propositions read the voters donate their votes just like they are inclined towards blood donation or eye donation.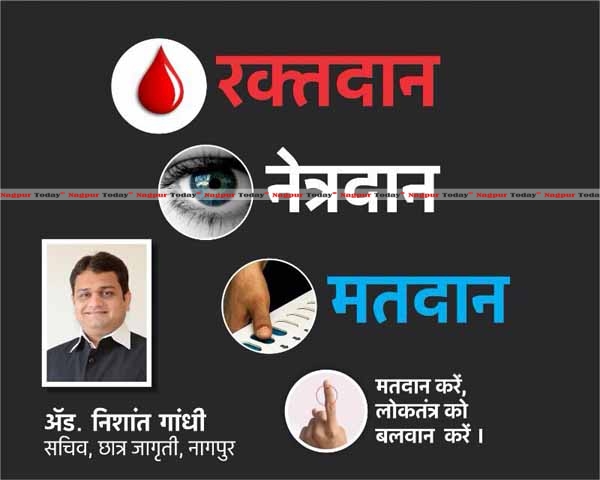 Another one is bit jerking as it challenges the people to either cast their votes or earn the infamous tag of being an odd to the society. The caption ends with – jisne vote naa daal uska moonh kaala (The one who would not cast should have their face painted in black)
When questioned about this unusual appeal, Gandhi clarified, "It's just a way of making the people rethink about their voting rights. It will pinch only those who have no intention of voting."