Nagpur's Jyoti Amge, the world's shortest living woman, in a three-minute film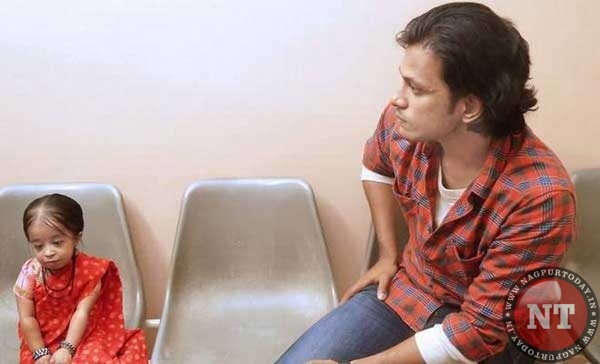 Nagpur: "Bahut achcha tha… maza aaya…" Jyoti Kisange Amge sounds happy over the phone as she talks about her acting experience in Maatharam, a women-centred short film. Jyoti, who is based in Nagpur, is the world's shortest living woman.
Says Ajith Ashok, Coimbatore-based short filmmaker, who has cast her in his short film, "She is a positive person and was very co-operative while shooting the film." Tiny in stature (at 23 inches), Jyoti can't eat more than five grams of food, has some difficulty walking and can easily fall over if there is a strong breeze. "But, she managed so well despite her health issues. We even have a rain shot in the film. In one of the scenes, she had to wade her way through slush. To avoid public attention, we shot the entire film in erected sets. Even then, people turned up in large numbers to see Jyoti," says Ajith. The short film that appeals for death penalty of rape perpetrators, released on YouTube on June 2. "What is heartening is the positive feedback from the viewers," says Ajith.
Jyoti became a part Maatharam after Ajith accidentally read about her in Believe it or Not. " This book has been travelling with me in my bag right from when was in school. I always had this on my reading table, but never really read it till I was writing for Maatharam. I went through the pages then and noticed Jyoti's photograph and her story. I immediately decided that she's the one for the role." He connected with Jyoti's friends over Facebook and Instagram and shared his profile and his two short films. His first short film is Bhoo, a horror comedy that features popular TV personality VJ Karthik. It was released on YouTube and later screened to a ticketed audience of over 2,000 people. His second short film Kaara, is a feel-good movie, that also saw the debut of Pooja Kannan (actor Sai Pallavi's sister) trended at number three on YouTube for a long time. " Both my films got good response on the social media. I spoke to Jyoti on video call about my third film. I narrated the story and she agreed to be a part of it."
In Maatharam, Jyoti plays a powerful role — that of a mother who adopts and raises two girls. Though it was her first visit to Coimbatore, where the film was shot, Jyoti says she made a lot of new friends. She says, "As I am not familiar with the language, a translator was in place to help me with the dialogues. I got emotional in a number of scenes."
Ajith plans to develop Maatharam as a full-length feature film. "The feature film has several others, but the short film has the bit that features Jyoti. I wanted my first feature film to be a hard-hitting one. And, I thought issues faced by women needs urgent attention, especially in the current times when you hear of rape and domestic violence." To drive home his point, he refers to a dialogue in Maatharam where Jyoti says, "I am not worried that I am small, I am only worried that I am a woman."