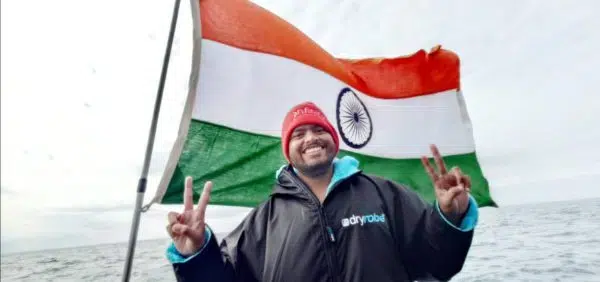 Nagpur: In a remarkable pursuit of his goal, despite adverse circumstances, success has been firmly grasped with one hand. This living example is illustrated by 22-year-old international open water swimmer Jayant Dubal from Nagpur. Jayant, along with his relay team, has achieved the extraordinary feat of conquering the English Channel. Among the world's seven seas, the formidable English Channel is considered one of the most challenging. Crossing from England to France and back, covering a distance of approximately 70 kilometers in just 31 hours and 29 minutes, Jayant's team became the first Asian team to successfully navigate this English Channel route. This marks the establishment of a new Asian record, as announced by Jayant.
Asian Triumph in Setting a Record
Similar to mountaineers conquering Mount Everest, the English Channel presents an analogous challenge for swimmers. Of the seven seas, this challenging waterbody holds great significance. Spanning England to France and back again, a staggering 70-kilometer distance was completed within 31 hours and 29 minutes, establishing a record for an Asian team. This extraordinary achievement by Jayant's relay team, marking the first Asian team to conquer this challenging feat, has earned them a place of honor. Jayant's success adds another chapter to his impressive achievements.
Overcoming Challenges on the Journey
This journey was not devoid of physical and mental challenges. The unpredictability of nature presented substantial hurdles. The ocean water, as cold as ice, added an additional layer of complexity. Overcoming temperatures ranging from twelve to fifteen degrees Celsius, the biting cold, swift currents, and the psychologically challenging atmosphere, the journey was no easy feat. Crossing these turbulent waters required navigating around aquatic creatures like jellyfish and lionfish, creating an environment that demanded unwavering courage. Jayant's determination proved unshaken, successfully overcoming every challenge and achieving his remarkable feat.
Triumph at Ambazari Lake
Swimming in a controlled environment differs greatly from open-water swimming. Guided by his father, Dr. Jayprakash Dubal, Jayant embarked on rigorous training for this endeavor. Under his father's mentorship, Jayant successfully completed his training for this challenging task. While Nagpur lacks an ocean, Jayant practiced intensively at Ambazari Lake, honing his skills. Swimming from 6 to 12 hours every night, Jayant's dedication and discipline were instrumental in his triumph.
Fulfilling a Mother's Dream
Amidst the challenges posed by the COVID-19 pandemic, Jayant faced the untimely loss of his mother. In these trying times, the support of his family, including two sisters and grandmother, and the guidance of his mentor, his father, played a crucial role. His father's unwavering support and blessings acted as a beacon of encouragement. With the blessings of his family and mentors, Jayant has turned his mother's dream into reality.
Jayant Dubal's accomplishments stand as a testament to human resilience, determination, and unwavering belief. His remarkable journey is not just a personal triumph but also represents the indomitable spirit of Nagpur and the unyielding human determination in the face of challenges.