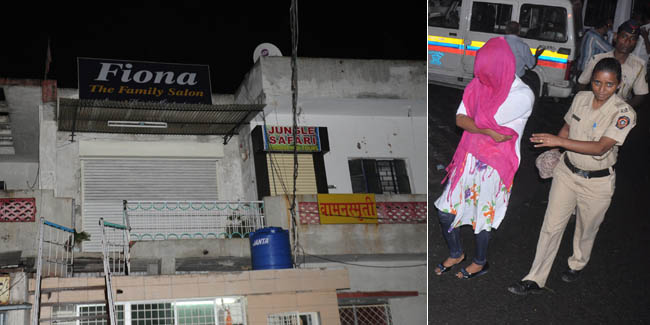 Nagpur News.
In view of the recent raid conducted at Fiona Beauty Parlour located at Ramnagar in Nagpaur, the owner of the parlour has stepped down to combat the allegations against their establishment. Archana Fernandes who runs the parlour went on to clarify her stand saying that Ambazari police has been constantly harassing them. She alleged that even they have been falsely implicated in the case.
In a press conference called at Tilak Patrakar Bhawan on Tuesday, Fernandes appeared fuming over the police action. She bursted her ire over Ambazari police alleging cops of framing them in cooked case.
Fernanades said, "We were not running any flesh trade in the parlour.There are five staff in my parlour, of them, three are girls. She clarified that  only one girl was in the parlour on that day. The person which the police are claiming to be my partner is actually my employee. No objectionable material or activity was found during during the raid."
She went on to say that when  the salon is named after my daughter how can she preach such practice in such an establishment. She said that by implicating them into false case the police have tarnished their image. She demanded justice from the higher Police officials.
On July 9 Ambazari police had conducted the raid at the said beauty parlour and arrested Fernandes who resides in Mohan Nagar.
A woman along with two other people customers were frisked away from the parlour.
PSI A D Katlam and his police team under the supervision of PI Anil Katkade,raided the place on tip-off. Cash, cell phone worth Rs 70,000 was also seized by police from the parlour.