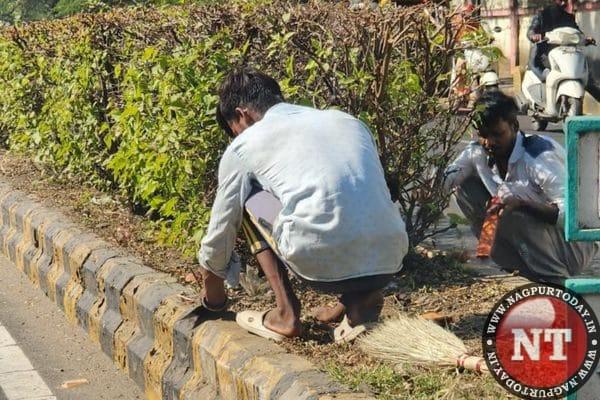 Nagpur: Citizens lately have not just been waking up to chilly weather but also better roads, footpaths etc. The maintenance of the city has finally started and Nagpurians are able to witness better roads, footpaths etc.
On one hand, the maintenance and beautification of the city is generating employment but on the other, citizens are furious as to why the beautification takes place only when there is an event. The winter session is all set to be held in Nagpur after a gap of two years.
The session will be held from December 19 to December 30 and will be attended by the state ministers including chief minister Eknath Shinde and deputy chief minister Devendra Fadnavis. The beautification process is just another example of how the administration works only for the sake of it, ignoring problems of the citizens.
Lately, the Nagpur Municipal Corporation (NMC) has also been taking up complaints by the citizens to maintain cleanliness in the city. The Nagpur Today team spoke to a few citizens of the city and here is what they had to say:
"It is good to see NMC taking initiatives to clean the city and beautify the city but why does it only happen during the assembly sessions? The work should be done throughout the year and not just at a particular time," said Sunny Agrawal, a resident of civil lines.
Another resident of Bairamji Town, Juhi Kumar said, "I've been seeing people working every single day, painting the road dividers and mending the roads but this shouldn't be done for the ministers. NMC should be for the public first. The ministers need to see the reality too."