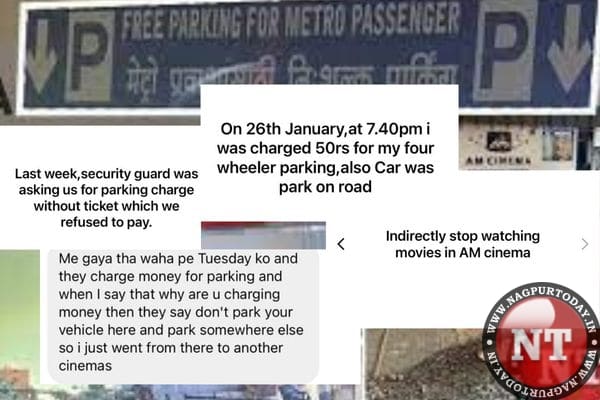 Nagpur: An outrage of Nagpurians broke out online after Nagpur Today exposed the scam of AM Cinema running an illegal parking racket at Jaiprakash Nagar Metro Station. Fumed over the malpractice of AM Cinema, citizens expressed their anguish on social media platforms. Some demanded their refund while others shared the horrible experience they were subjected to at AM Cinema by its staff.
Himanshu Hasija who had gone to AM Cinema to watch Pathan, informed that when he parked the vehicle at Jaiprakash Nagar Metro Station, AM Cinema staff walked up to him and were seeking parking charges.
"I was aware of the fact that AM Cinema isn't authorized to collect fines on Metro property. So I argued with him that you can't siphon my money on the pretext of parking charges. However, he was forced to pay or park elsewhere. Irked over his behaviour I left the premises," said Himanshu.
Himanshu isn't the only one who was subjected to unceremonious behaviour by AM Cinema staff. Sankalp Somwanshi shared that, last week when he had gone to AM Cinema, a security guard was asking him for parking charges without issuing any ticket. As a result we refused to pay, he stated.
Shoeb Meman, who faced a smirky situation at AM Cinema informed that, "Despite parking on the road, I was charged Rs 50 for my four wheeler."
Aryan Thakur, who had gone to AM Cinema expressed that, "I was cheated by the AM Cinema authorities and I want my money back!"
Some users have also demanded to boycott AM Cinema for its fraud.
Illegal parking at AM Cinema!
Nagpurians have you been robbed of your hard earned money at AM Cinema on the pretext of parking charges? It is pertinent to mention that sans any valid permission from the Nagpur Metro, AM Cinema was charging money from gullible citizens.
If you have been defrauded by AM Cinema, please share your experience with us!