Nagpur: So who else could really be THE Nagpur guy of 2015? It Devendra Fadnavis all the way!
There is no competition really. No other name even comes to mind. The city is still not over the fact that one of its MLAs, its dear Mayor of one time, is the Chief Minister of the state.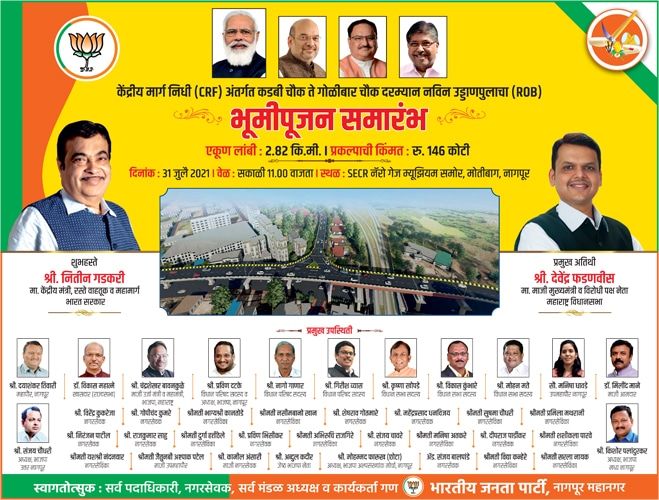 No doubt we are all proud of Nitin Gadkari too… but he being a more seasoned and elder politician has enjoyed power and position before; he becoming CM would have seemed like a demotion – we would be proud to see him as PM some day soon! (He almost would have made it, had the Poorti 'scandal' not surfaced making him quit position of BJP President. Wonder who instigated that leak? Had to be someone within the party… as they ask, WHO benefited from getting Gadkari out of the way? We think, with good reason, that Anjali Damania was just a tool… she didn't have the wherewithal to do it by herself. But that is another story, and we will leave it for another day.)
So we are speaking of Dev being the Hero of the city for 2015. And this is not just the opinion of the undersigned, or of Nagpur Today.
We conducted a spot survey of many Nagpurians in mid December asking, some questions.
Like – "Has Nagpur benefited from having a Nagpurian as CM?"
And – " has he changed after becoming CM?"
An overwhelming city residents said 'Yes, Nagpur has benefited'. Over 80% of people polled found a positive change.
Among those we spoke to were students, housewives, retired folks, middle class residents of the city – specially his constituency.
Even some respondents from Minority communities with names like Shaizee Sheikh, Arshan Khan and Sunny Francis felt he is working hard for the city.
"He fights for us" said Sunny.
Aarhsan actually thought that " there was progress in NMC because of him".
On the flip side, some citizens with names like Bhagat and Kamdar and Ganar said an emphatic NO to whether there has been any positive change!
We, the hapless journalists of the city know that both Fadnavis and Gadkari make it a point to be in the city on weekends – they keep us busy covering the functions they grace!
But – we have to break the bubble here. There were notable exceptions to the Fadnavis fan club. The most significant is the business community – across the board, whether in MIDC, Hingna, or Butibori or small business' spread across the city, they expressed disappointment.
They have grievances on a number of counts.
Power rates very high – though power is generated in and around Nagpur, city gets no benefit.
Even concessional rates from Reliance power could not be facilitated due to non co operation of State government.
Red tape not done away with. A very big local group ( who does not want to be named for obvious reasons) complained that about Rs. 7 + crores owed to them as Sales Tax refund has not been returned since they claim that state coffers are empty. "Where do they get funds for foreign trips? And multi crore projects like Metro? 7 crores is a paltry sum for them but makes all the difference for an mid cap industry like ours" said one Director.
It is not easy at all to meet the CM, says a leading city physician. The case of his hospital slated to come up in MIHAN has been stuck in files for many years… but even getting an appointment to meet Devendra is not forthcoming.
Worse, for the young CM, he is fast gaining a reputation among senior politicians and other elite for "not doing work." Translated means – he does not listen to our requests and do our bidding. In one sense , very good! He is not into nepotism. But when such a feeling circulates among King makers, it does not augur well for young politicians.
But hey! Apart from such exceptions, general public: men, women, youth are all for Fadnavis being good for the city!
But I would say, it is still NOT good news for him…
Here's why. When we asked them 'why he has been good?' The replies we got in maximum cases were for two reasons, or three, actually –
Nagpur Metro work started
MIHAN
Laxman jhoola started
Now anyone with common sense will know that the Metro planning work was completed by the previous UPA government and Modi got a "ready made" project to announce in one of his first trips to Nagpur as PM. So credit has already been shared all around.
Similar for MIHAN. Devendra announced that within 100 days his Chief Ministership all obstacles to MIHAN would be removed and projects would begin.
But not ONE new mega project has really come in and villagers whose lands have been taken are protesting and asking for it to be returned.
Some skeptics are saying that MIHAN is going to end up becoming an Education hub. "First Congress politicians like Ranjeet Deshmukh, Chaturvedi, Datta Meghe ( Now BJP ) got land at concessional rates from Congress governments; now businessmen close to BJP will benefit."
(Is it a co incidence that many of the above names are with BJP today or at least their offspring are? So they are right in place to benefit all over again!)
Laxman Jhoola has been under construction for a long time now. It just finally got ready in 2015…
So next time, this year what projects will loyal Fadnavis followers credit him with?
Observers have been surprised at some of the steps he took – banning beef was one such. No one we spoke to brought that up as a 'feather in his cap'.
People by and large really do NOT care for such things – what someone eats within the four walls of his house is no one's concern.
In fact, in another survey we did ( results of which will be announced separately in detail) many Nagpurians find stray cattle and illegally maintained cowsheds in some parts of the city a nuisance.
Many others are gravely disappointed by his almost U turn on Vidarbha.
Some students of Management colleges expressed grave concern for farmers' situation.
"Where is policy frame work or solid measures like assured prices for agricultural goods ?" they ask.
That is why we say time is running out.
We would love to vote Dev man of the year next year too.
With good justification. Credit for stuff he genuinely initiated – and began executing.
.. Team Nagpur Today – Compiled by Sunita Mudliyar – Associate Editor