Nagpuri mulgi Sejal Jaiswal to rock MTV with her dream TV debut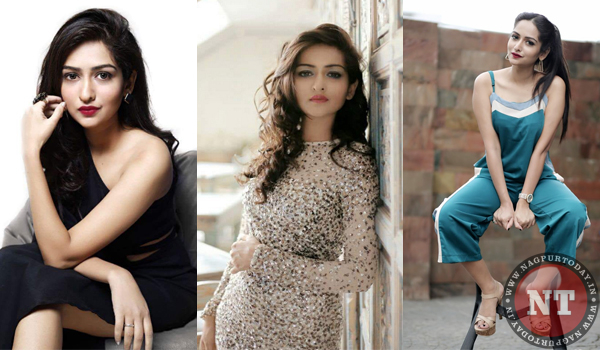 Nagpur: When she arrives at the CCD we are meeting at, I don't have to be told this is Sejal Jaiswal. I see a slim, pretty girl getting off from her two wheeler and know immediately that this is the Nagpur 'supermodel' we are waiting for.
For one, she is dressed stylishly, in a wine coloured top and black tights, she is perfectly coiffed and is wearing make up. "Since I have begun modeling, I am very careful of my appearance in public, specially if I am meeting Media persons" she explains. Difficult to believe she has another avaatar as a Physio Therapy final year student of Lata Mangeshkar Medical college, and that she has come back from college just half an hour ago. Dressed and looking like your normal college girl, no doubt.
Tonight, this girl makes her debut on TV in an MTV India show called " Dating in the dark". It will be a one hour's episode aired between 7 p.m. to 8 p.m.
What is it about?
"It's based on an international reality show, and presents a unique new way of looking at what attracts us in another person, specially of the opposite sex. Does just physical appearance matter, or do other qualities also play a big part? I will not disclose more, because I want the audience to be surprised! You will all definitely enjoy this unusual show" Sejal says excitedly.
Dating in the dark is a presentation of MTV and Viacom 18, produced by Banijay Asia Production House and hosted by Nora Fatehi, the Morrocan – Canadian dancer, model and actor who has featured in the popular 'Dilbar' Bollywood song. As TV goes, you cannot get a bigger break than this!
So how did Nagpur girl Sejal get so lucky?
"Not just luck. It was a combination of hard work, discipline and talent. I have been modeling for 3 – 4 years now. I knew my goal was TV so I was trying to get a break with MTV for 3 years. Finally, I was selected for this show."
It will surprise readers even more to know that till her 12th, Sejal lived in Katol from where she originally hails. Her parents live there even now. It was only for preparing for Entrance exams post her 12th, that she came to Nagpur. And happened to participate in the promotion of film Shootout at Vadala, for which big stars like Anil Kapoor, John Abrahm and Tushar Kapoor were in the city. She was selected to dance with them for the promo event. Which she did self confidently without getting cowed down by the presence of the stars.
It was the first time she was on 'stage' and she was noticed. She began getting modeling offers soon after.
Then in 2014 and 2015 she won at two beauty pageants back to back. (The second one called 'Miss Maharashtra' co sponsored by Nagpur Today and Honda Motors.)
There was no looking back then. Sejal began getting modeling offers from Mumbai as well as cities like Bhuvaneshwar too. She got to rub shoulders with big models like Dipti Gujral and get trained by Achala Sachdev.
"But mostly I am self trained. Whether it is modeling, acting, putting on make up etc. I have learnt on my own. I observe other established models closely and learn from their performance. I have always been encouraged by my peers and seniors; the atmosphere of Mumbai is very different from Nagpur where your competitors will try to pull you down." Sejal says.
Did the world of glamour not distract her from studies?
"Yes, in the beginning it did. So much so that after one year of P.T. studies I decided to quit and concentrate on modeling. My mother counseled me to stick to my education till I graduated at least. I am glad now that I decided to follow her advise. I have become so serious about my education that I even topped my college last year" she says proudly.
She will finish her studies soon and after that a shift to Mumbai is definitely on the cards.
"My aim is the TV industry. That's where I see a future for myself." She says. "But she also plans to keep in touch with her para medical career. May be I will go in for post graduation, but not in the immediate future."
Finally we ask Sejal to share her health and beauty secrets. What is her diet, how and when does she work out?
"There is no strict diet that I follow. For breakfast I have a glass of milk, with Horlicks but no sugar, and some fruits or sprouts. I eat normal ghar ka khana" – that she gets in a tiffin from a lady in Nagpur – "for lunch and dinner. Sometime I do give in to the temptation of fast/ junk food, I am a student after all, but then I atone by skipping dinner."
She loves non vegetarian fare too, but she has it when she goes home to Katol.
"Strictly no drinking or smoking though!" She says firmly adding " I am in Health Sciences, I know the ill effects of such habits."
As far as exercise goes, she does Yoga in the evenings.
Now that she has made it to the fast lane of a glamorous career, what is her advise to younger hopeful?
"Be confident, and let your feet be firmly on the ground even if you are preparing for a 'Starry future!"