Nagpuri boy Saket Part of Reality show zindagi ke crossroads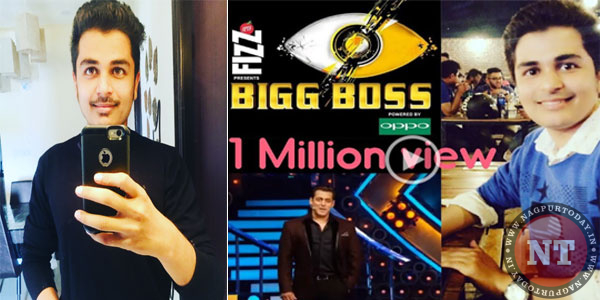 Nagpur: This is about a boy called saket who works in an multinational company in Pune but always had a dream to see himself on National television. He is Funloving, Carefree and a strong opinion oriented personality. He is a Youtuber (25k views),Fashionista who loves clicking selfies and a great entertainer.
Being from an educated middle class family he pursued his engineering and been part of 3 Top software companies and reached a senior position.There was always a dream to be accomplished.
He auditioned for Big boss 11 and it become a huge hit on you tube then he focused on body transformation and made himself lean and got a good style transformation he was been popular in company for his Entertaining personality,style and looks and his opinion oriented personality that made him stand out in a croud.
He got a call for Sony TV Zindagi ke crossroads and he shot the Episode which will be aired this friday.He had an amazing experience to be part of show by which u have a platforn to raise an opinion on national television.
Ram kapoor was impressed with the opinion raised by Saket and so a small promo released by channel has Saket featuring in It.
Saket desires to motivate the youth he is at a senior position in Capgemini He focuses on diet,is a fitness freak does all physical activites like Yoga,GYM,Swimming etc,Loves to style himself,Makes videos and keep himself active on social media.He is an all rounder which the youth needs to learn he is someone who falls and rise and falls again.he makes mistakes but learns from them.
He is emotional he cries when someone tries to put him down but he holds capacity to prove them wrong by focusing on his goal and being good to them always.this world is competitive we need to be on top to survive and saket is one who survived in difficult situations with confidence.Being from a very small town katol he has groomed himself well that people loves him when they meet him.he is the one who loves himself.
he always helps the freshers to get into the industry he owns watsapp job group.He creates his own videos,his Instagram has been loved by his friends followers as he is super entertaining and would love to feature on any of the shows.he is basically from katol ( A smalltown from nagpur) and studied at Nagpur.Currently lives in Pune.