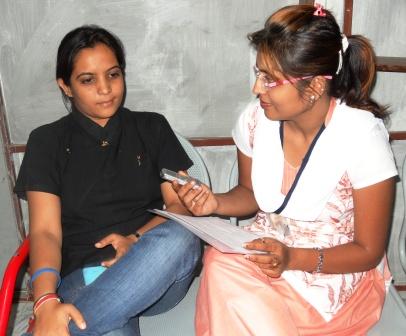 Nidhi Kamdar, our City Youth Icon, met with the Nagpur Today Team this week.
Just like Nidhi, her parents are also involved in social activities, and had recently organized the spectacular Sankalp Dandiya Dhamaal, one of the biggest gatherings of elite crowd in central India.  Nidhi pursued her Masters Program in Government (M.P.G) from MIT School of Government (Pune) 2012, and then pursued her Bachelors in Engineering (B.E) (Electronics and Telecommunication).
As the conversation went on, we got to know about her experience in Pune. Nidhi was among the twenty three people who formed the sixth batch of Pune's MIT School of Government (MIT- SOG), where she was awarded the degree Masters in Government degree. Three Students of the batch were awarded for their outstanding overall performance. They were Nidhi Kaamdaar (Best Participant Award), Kaminee Ranga (Academic Excellence Award) and Ashok Kumar (be the change Award).
At the young age of 25, Nidhi is doing a commendable job for the benifit of citizens, through her involvement in various social causes. She has also entered politics and wants to tryi her best to change the system.
Nidhi's list of achievements is highly impressive:
Awared 'Best Student Award' for MPG 06 Batch at MIT School of Government,Pune (June 2012)
Delegate among only 5 Indians representing India for 2012 ACYPL U.S Political Exchange Program in July 2012
President, Bhartiya Janta Yuva Morcha Yuvati Aghadi (BJYM Youth Wing for Women), Nagpur City
Executive Member, Bhartiya Janta Yuva Morcha, Maharashtra State
Executive Officer, Whistle Blowers, Nagpur (Sept 2011 till date)
Organizing Member, 1st Indian Students' Parliament, MITSOG, Pune (2011)
President, YCCEFEST 9.0 (2008-09)
President, Jain Social Group (JSG) Yuva Forum, Nagpur (2009-10)
Chief-coordinator, Electronics Engineering Students' Association, YCCE (2008-09)
Vice-President, JSG Yuva Forum, Nagpur (2007-08)
Treasurer, YCCEFEST 8.0 (2007-08)
Secretary, JSG Yuva Forum, Nagpur (2007)
Winner of the title "Orator of the Month", organized by Oxford Speakers` Academy, Nagpur.
Joint Secretary, JSG Yuva Forum, Nagpur (2006-2007)
Facility Administrator, Sankalp, Nagpur (from 2005 till date)
Publicity Head, Electronics Engineering Students' Association, YCCE (2007-08)
Organizer, Inter Collegiate Extempore Competition
Core Group Member, Annual All India Inter School Personality Contest organized by Oxford Speakers` Academy, Nagpur (2007, 2008 & 2009)
Member, Sponsorship Committee, ICON, National Level Technical Symposium
Member, Electronics Engineering Students Association, YCCE (2006-07)
Nidhi further told us about her activities at MIT School of Government (2010-11):
State Study Tour – Constituency study of the state of 'Madhya Pradesh' with respectto its socio-political and cultural conditions.
Field Visits – Visit to villages like Shindewadi, Ralegan-siddhi for studying the social political and cultural flora and fauna.
Attended training at BAIF at Urlikanchan on livestock and Rural Development.
National Study Tour – Delhi Study Tour where we had interactive meets with the Ministers, Leaders from ruling as well as opposition party and visited various NGOs as well as Rashtrapati Bhawan.
After her education and commendable involvement in co- curricular activities, Nidhi switched to Politics and chose to join the Bharatiya Janata Party (BJP). She was drawn to Politics after realising her leadership qualities during her term as President of YCCE College Nagpur. She is presently the President of Bhartiya Yuva Morcha (Bhartiya Janata Party ,Womens Youth Wing) in Nagpur since September 2011. She aspires to get into active Politics.
During her studies, Nidhi went on an international study tours and visited the following places:
• ENGLAND – Commonwealth Secretariat, Conservative party head quarters, Liberal Democrats head quarters, British Parliament and Bharat Bhavan.
• THE NETHERLANDS – International Criminal Court, International Court of Justice, India Chamber of Commerce and Trade, Organization for the Prohibition of Chemical Weapons, Global Human Rights Defense, The Hague University and the Dutch Parliament.
• BELGIUM – North Atlantic Treaty Organization and European Parliament.
• FRANCE – United Nations Educational, Scientific and Cultural Organization.
• SWITZERLAND – Indian Embassy, World Trade Organization, South Centre and Office of the United Nations High Commissioner for Human Rights.Some questions regarding these trips are as follow:
Suhani: Tell us about your experience obtaining a degree in government.
Nidhi: Another part of the curriculum was the international visit, wherein we visited five countriesof Europe- the UK, France, Belgium, Switzerland and Netherlands. This again was a study of their
system of government, which was important since the Parliamentary Democracy in place in India hasbeen based on the UK system. It was a wonderful experience wherein we visited the InternationalCriminal Court, the International Court of Justice and the UNESCO (United Nations Economic,Social and Cultural Organisation) and NATO (North- Atlantic Treaty Organisation).NATO is the most
powerful military organisation in the world, and it is very difficult to obtain entry. Yet, we had threesessions with the officials of NATO. We also visited the Indian embassy in UK and in Switzerland.
Suhani: When you visited Switzerland what impression did you get about the reported Indian black money stashed in the country?
Nidhi: We questioned the Ambassadors there about it, and asked them their opinion on the situation, and what they were doing about it. Their answers painted a completely different picture.It was a very simple answer; they said that they have neither received an order on paper, nor any information with name, account number and amount of black money till date, against which actioncould be taken. They said they were never given any concrete data or orders. It was as clear as thisat their end.
Suhani: Why do you think people in the country consider all politicians to be evil?
Nidhi: It is because of the way politics is shown in the media. The Aam Admi does not know eachpolitician personally; they judge them on what the media says about them. Let me give you a very
interesting example. I was recently selected as part of the American Council for Young PoliticalLeaders Exchange Programme, organised by the US Consulate General. Five people had beenselected from India, from five different political parties. Similarly, there were five youngsters from
Pakistan, from five different parties. Pakistan is a very sensitive issue in our country, and I'm surethat most of the readers of this interview have a negative impression of Pakistan in their minds;
so did I. The five of us were looking forward to meeting the Pakistanis the most. We travelled withthem and lived them for around twenty days, and our perception changed completely. It is very
difficult to distinguish an Indian from a Pakistani; people had to be told which of us was from whichcountry (laughs). We became friends. This is why I feel that the media presentation of any issuereally changes how we think about it.
As per Our Meeting we got to know Nidhi is also good in Sports which sounds really great. She is a all rounder Queen  of our city who is enjoying her every moment of her life and inspiration for the new comers.
Her message to Nagpurians is to grow well and achieve what they want.
Her motto in life is, "If you don't like the rules, just follow them, reach the top and then change them".
Suhani Vanjani