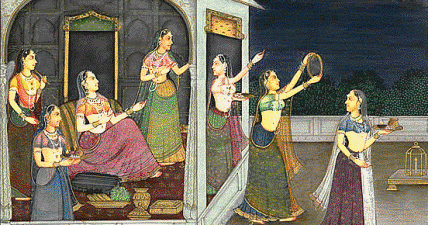 Nagpur News.
It was a day of fasting and prayers for city women on Tuesday as they celebrated the Hindu festival of Karva Chauth with fervour.
The word Karwa Chauth is derived from two words "Karwa" and "Chauth". "Karwa" means a container made by sludge and "chauth" means "chaturthi". The container is of great importance in this festival. It strengthens the bond of husband and wife which evolves to consummate love and affection between them. It is a symbol of adoration for their partner. According to Hindu believe since the time immemorial, husbands are considered as god and this day wives show their eternal love and respect for their husbands by keeping this fast. It is believed that this festival symbolizes dedication and faith of the wife in her husband.
Priyanka Ketalpal a modern house-wife was observing her second Karva Chauth said that the feeling was awesome as usual. I was duly pampered by my better half. My husband had taken a leave and was with me throughout the day.  She added that she was not a person who can stay hungry for long, yet somehow the fasting went pretty smoothly for me. After I finish all religious rites and break my fast, most probably we shall go out for dinner and have a nice good time.
Sangeeta Baweja another house wife said that though she is educated and believes in scientific advancement, she still believes in God and performs all religious rites. She says the sages and saints of yesteryears who wrote the Vedas were never wrong. Everything they had said or predicted had come true so I follow this ritual every year. I used to observe fast before marriage for getting a good husband and after marriage two years ago, I still observe the fast. I enjoy it and will continue to do so. This ritual is for the long life of husbands so I would love to do it for him.
Nagpur Today had spoken to many married women in the city. Many had very similar ideas and thoughts. They all opined that even after many petty quarrels, they still loved their husbands and would love to observe fast for the long life of their husbands. Mrs. Pushpalata, Vaishali Jadhav,  Madhavi Agrawal, Dr Bharti Sharma, Roohi Sharma, Sonali Meghani and many others said that remaining without food for an entire day does make one very weak, especially if you are working somewhere. But in the evening when you come and your husband asks  if we are ok, all our tiredness go away. We get to deck up in choicest bridal attire while performing the rituals.