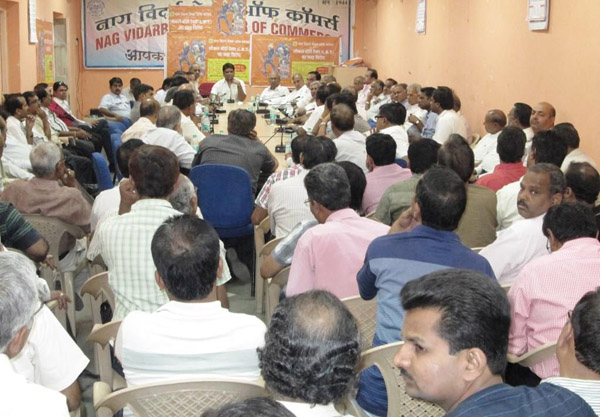 Nagpur News: An Emergent Joint meeting of the Executive Committee, President & Secretaries of Trade Associations of the Chamber was organized under the chairmanship of Shri Dipen Agrawal, President of the Chamber- to-day the 2nd April, 2013 in the meeting Hall of the Chamber.
Dipen Agrawal, President apprised the members that the Writ Petition in connection with Local Body Tax (LBT) filed by the Chamber in Association with all the Trade Associations in the Mumbai High Court Nagpur Bench has been admitted to-day- but has denied any interim relief. Hence to chalk out further course of action to sharpen our protest on LBT has been called for. He invited suggestion from the members present in the meeting.
Members present in the meeting totally opposed LBT and unanimously following decisions :-
1. Total Trade of City of Nagpur will go on INDEFINITE STRIKE from Thursday 4th April, 2013. All Wholesale, Retail, Panthelawala, Khonchewale, Traders doing business on Footpath, Tea Stalls will also join INDEFINITE TRADE BANDH.
2. Notification dated 25-02-2013 in respect of LBT at Nagpur issued by Maharashtra Government should be withdrawn with immediate effect otherwise the trade bandh will be continued.
3. From 3rd April, President /Secretary of trade associations and members of trading community will attend the Chamber daily to chalk out the programme of INDEFINITE TRADE BANDH in all markets of the City.
Following members were present in the meeting Sarvashri Dipen Agrawal, President, Kailashchandra Agrawal, Shreegopal Soni, Prafullbhai Doshi, Rajnikant Gariba, Radheshyam Sarda, Suresh Bhojwani, Prakash Wadhwani, Past Presidents, Mayur Panchmatia, Prakash Mehadia, Ajaykumar Madan, Hemant Gandhi, Chunibhai Shah, Manubhai Soni, Sachin Puniyani, Ashok Sanghvi, Bharatkumar V. Thakkar, Raju Vyas, Dilipbhai M. Thakral, Gajanand B. Gupta, Jaiprakash Parekh, Laxmikant Agrawal, Mahesh Khetan, Nikhilesh Thakar, Pratap Motwani, Rajubhai Makhija, Ramdas Vajani, Ramavatar Totla, Satish Bang, Shabbar Shakir, Vijay Kewalramani, Hastimal Kataria, Laxminarayan Shrma, Bharatbhai S. Thakkar, Deepak Khurana, Natwarlal Patel, Ashok Waghwani, Rajesh Aamte, Raju Vyas, Vijay M. Chandak, Syed Nawab Ali, Vijay Pote, Assandas H. Balwani, Sanjay M. Wadhwani, Rakesh Babulal Mansata, Prakash Jais, Anil Mantri, Manoj Laturiya, were present states in a press note issued by Shri Hemant Gandhi, Hon. Secretary of the Chamber.