Nagpur Today : The city of Nagpur is visited by tens of thousands of people throughout the year. This can be a problem when it comes to looking for accommodations. The best time to visit Nagpur would be in the month of April or May. The seasons brings out the best in Nagpur; this includes ripe oranges which Nagpur is famous for. Since Nagpur has a metropolitan temperament, generally it is a populated place.
There are variety of Nagpur hotels. From Rs 200 a night dormitories to the best in luxury hotels, Nagpur is proud to have everything. Many budget hotels have affordable rooms. Booking rooms in advance to save you last minute anxiety is possible and also advised. Deluxe and luxury hotels are also available and these rooms provide amenities like high speed internet, swimming pool, bar and air conditioning. When on a business trip, a stay at one of these luxury hotels can be rewarding.
The top five hotels of the city are as follows:
1.Hotel Radisson Blu: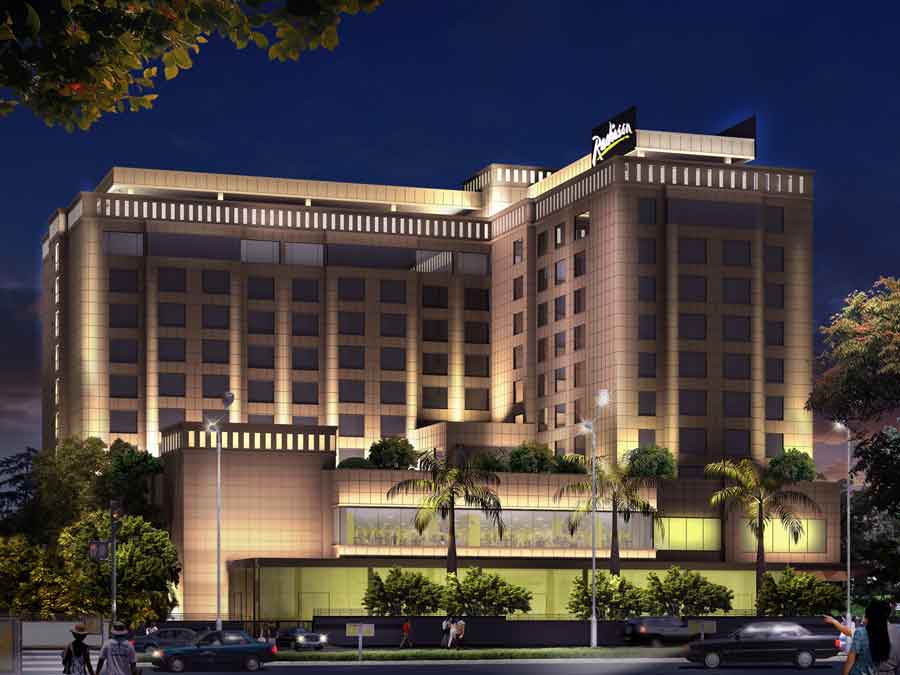 Known as the Orange City for its famous juicy fruit, Nagpur is home to the Radisson Blu Hotel Nagpur, boasting a central location in the Winter Capital of Maharashtra. This international business hotel offers 214 rooms and suites that provide high-quality amenities, including free high-speed, wireless Internet access and 42-inch LCD televisions. This accommodation also boasts two Business Class floors with access to the Business Class Lounge. While in Nagpur, our hotel's guests can enjoy dining at one of the five on-site outlets and unwind with a drink and live music at the Lobby Bar. With features like a swimming pool and over 4,600 square feet of meeting space, the Radisson Blu Hotel in Nagpur is perfect for leisure and business guests.
Positioned just 2.5 km from Nagpur Airport, a 15-minute drive from Dr. Ambedkar International Airport and 20-minute drive from major commercial centres in the city, this hotel in Nagpur is well situated.
At TCK, The Creative Kitchen, guests enjoy global cuisine while Cakewalk, our pastry shop, offers delicious baked goods for light snacks.
The Fitness Centre, located along the swimming pool one level above the lobby, is equipped with state-of-the-art cardiovascular and strength training equipment.
Relax with an on-site spa and health and beauty salon.
Host an elegant event in the 1,200-square-foot Summit hall, which can be divided into three smaller spaces.
2. Sun N Sand Hotel: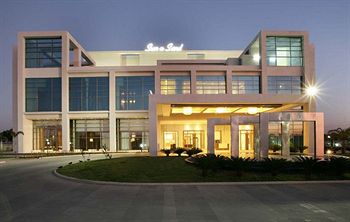 Seeking five star comfort at a Nagpur hotel? It's right here. Set literally at the heart of India – the Zero mile marker indicating the geographical centre of India is located here – Nagpur is one of the fastest growing cities in India, the second capital of Maharashtra and a well known political and economic powerhouse. Sun-n-Sand's brand new hotel at Nagpur spells luxury and a 5 star environment for leisure and business travellers.
Direct dial phones, Wi-Fi, a 42" LCD TV and an electronic safe are standard facilities available in all 133 rooms at the hotel. The hotel has five elegant banquet halls and a lawn that makes a superb venue for large gatherings. It has the outstanding Kabab Hut, Woods – a 24 hours coffee shop, On the Rocks – the bar and Aqua Splash – a restaurant by the pool, serving up an experience that completely satisfies you…while leaving you asking for more. A Sun-n-Sand experience is meant to be repeated!
3.The Pride Hotel

The city of oranges goes truly five star with the Pride Hotel, Nagpur. Barely half a kilometer from the airport, the Hotel is strategically located between the city and the industrial belt- Buti Bori, in a lush green, pollution-free environment.
A haven of tranquility and luxury, The Pride Hotel provides accommodation that proves to be an oasis of calm amidst chaos and drudgery. Our fully-equipped business center and extensive conferencing facilities are an ideal choice for the savvy business traveler because of its close proximity to Nagpur's industrial belt. For banquets, marriages, parties, and seminars, the Hotel boasts large banquet halls geared to give you the finest of facilities, all under one roof, making every occasion an event to be remembered.
4. Tuli Imperial :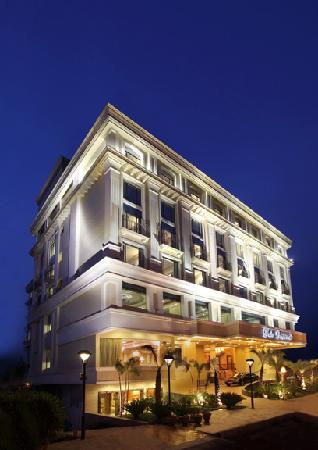 Located close to Central Bazaar in Ramdaspeth, Nagpur, Hotel Tuli Imperial is a boutique hotel. It enjoys a close proximity and easy access to all important places in the city.
Tuli Imperial is synonyms with avant-grade quality and superior customer care services. It well suits the needs of both leisure and business travelers.
This hotel offers a swimming pool and fitness facilities, along with a 24 hour reception and conference room(s). Nagpur town centre is within an easy 10-minute drive of the hotel.
The modern and spacious rooms at the Tuli Imperial include tea and coffee making facilities, a mini bar and a TV. Each is equipped with an iron and room service is available.
With a relaxing setting, the Tuli Imperial's on-site bar offers a range of premium drinks and snacks. Breakfast is provided at the hotel daily.
Dr. Babasaheb Ambedkar International Airport (NAG) is less than a 20-minute drive from the Tuli Imperial. The hotel is within a 20-minute walk of Deekshabhoomi and Maharajbagh Zoo, and within a 10-minute drive you can find Vidarbha Cricket Association Stadium.
5. Hotel centre Point :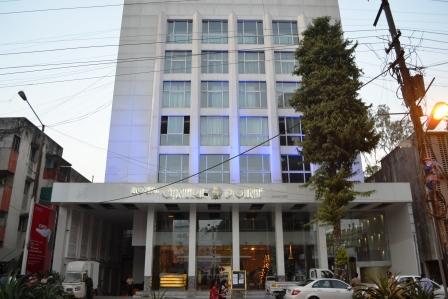 Nagpur, an oasis for business and leisure travelers who want the comfort of home. This hotel is strategically located in the heart of Nagpur's commercial and entertainment area.
The Group : Centre Point Group of Companies, a five decade old Group in the business of Home Care Products, Hospitality & Construction, is the strength behind Hotel Centre Point, a multi Star Hotel Situated in Ramdaspeth with all international amenities 7 features.
HOTEL CENTRE POINT is renowned as one of the finest hotels in Central India. We offer you excellence yet still retain a special warm and inviting atmosphere.
A welcoming smile from an efficient and eager to serve staff on your arrival, the ambience of the large open plan air-conditioned reception and lounge area will immediately make you feel at ease. You already begin to realize you have made the correct choice for a stay to remember.
So When are you planning to visit? We Heartily Welcome you to Nagpur!!!