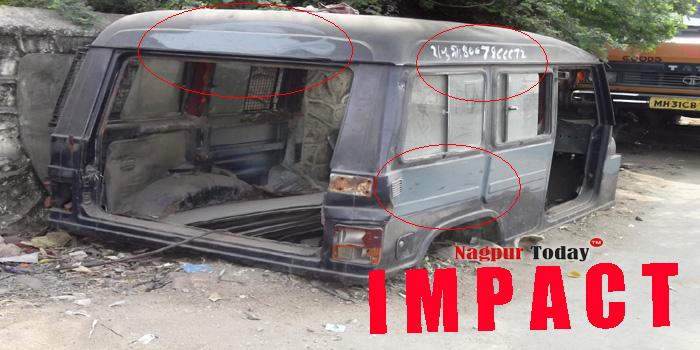 Nagpur News : Nagpur police department has finally awaken to the fact that the scrap vehicle bearing the registration in the name of Commissioner of Police could invite misuse posing serious security threat. As the news flashed in Nagpur Today regarding the CP's vehicle lying idle at a scrap dealer's place at Dobi Nagar in Mominpura, the higher police authority took no time in covering up the mess. It immediately took the scrap dealer to task, got the color repainted and name plate removed from the vehicle.
It may be mentioned here that Nagpur Today took the initiative in regard to alerting the cops about probable misuse of the vehicle. Earlier the game of passing the buck was on as the RTO officials claimed the vehicle was still registered in the name of CP while police was all out to pull up the scrap dealer. Eventually it moved to concrete efforts and the result was for all to see.
The vehicle with registration number MH 31 AG 9029 is now completely changed in color tone. Even the number plate is also removed from it.
However, questions still remain as there might be so many other vehicles still kept in its original texture at the number of scrap dealers place. A detailed probe is demanded on the part of the police to work out the fool proof strategy for all the police vehicles being sold in scrap.
Worth mentioning is the fact that these vehicles cannot be sold in scrap in view of its possible misuse. Sidelining this fact the vehicles are carelessly auctioned.
Anil Deshmukh, police inspector at city's motor transport office said that it amounts to criminal offence not to remove the identity of police vehicles purchased in auction. As per the procedure, no-objection certificate from CP is also issued to the buyer after the auction. However, neither CP remains present during the sale nor the TTO form bears his signature.
On the contrary, the police chief remains unaware about whether the vehicle that was sent by state government in his name, are auctioned or disposed.
Informed sources revealed that it is compulsory to provide the registration number and model of any police vehicle before clearing it for auction. But even this point is finely ignored during the process.