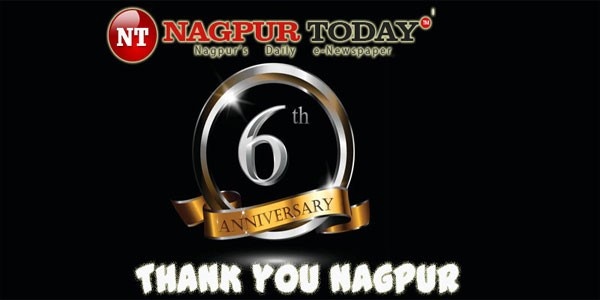 Every year Birth Anniversary of Father of the Nation Mahatma Gandhi brings us more reasons to cherish, rejoice and bask in the glory of another shining achievement. This is the day Nagpur Today was born. 6 years back Nagpur Today came into existence amid mixed reactions from the fellows of journalist community. Putting all the speculations, apprehensions and uncertainties to rest, Nagpur Today stands tall with all its vigor and pride. It reflects the years of efforts and toil our team members did to reach this juncture.
Inaugurated at the hands on Shri Banwarilalji Purohit, Nagpur Today has completely changed the way the news was reported and read earlier.
As the nation celebrates 150 years of Mahatma Gandhi today, I take this opportunity to thank people of Nagpur along with my team, specially those who have stood by us right from day 1.
Going back to 2012, when we were planning to start an Online News Portal, no one was willing to be part of it – few thought it was a bad concept, while others look down to us, which include few senior journalists of the city.
But with sheer hard work of our Team of Reporters, editorial staff and desk, we managed to make a distinct mark among Nagpur media, in a short span of time. People started accepting us and so did the journalist of the city.
Today we take pride in saying that Nagpur Today has become the heartthrob of readers, particularly Nagpur's youths, thanks to the rising number of its mobile application downloads and expanding visitors' base on its website.
With our sole motto of reporting every news without looking into its commercial consequences, Nagpur Today is now the most feared news media of the city for many to envy.
This habit of Nagpur Today not compromising on news gained us bad mouth too… we are called as the blackmailer not only by the feared law breakers but by few journalists of the city too.
How we got branded as a blackmailer? Well, earlier before Nagpur Today, only source of local news was newspaper. So at that time any incident would happen in city like raid on who's who of the city, business establishment , political rivalry, any crime or misconduct etc was suppose to be reported in newspaper next day which gave ample time to manage those news and keep them from print. Selective and calculated news used to get published managed by some journalists of city who acted and still do act as middle men.
As Nagpur Today came into the scene, any incident that happens in city is now primely reported at Nagpur Today. In this regard, we remain the first and foremost to break that news within the hours of its occurrence, leaving no time for law breakers to manage those news. This tendency hurt many in the city and also to some fellow media personal who started this campaign. We not only publish news but we name the person and institute involved in it.
For instance, three days back a 3 year old girl was molested in school bus – school belong to very prominent family of Nagpur City — No Newspaper of City dared to name it — We at Nagpur Today did.
Media house owners of city looks at Nagpur Today and query with their reporters if any news are missed by them now. Well this made us more hated.
Keeping the tradition of Fearless Journalism, we will keep exposing and stand by the truth. You can hate us but cannot afford to ignore us.
Last not the least , we need your co-operation to expose the wrong doing in and around us.
So be a part of Nagpur Today community, connect with us as a Alert Citizen Journalist, report to us, don't fear anyone – Truth will always win.
Let's make Nagpur a SMART CITY- OUR DREAM CITY
I conclude here with this thought of an eminent poet,
The woods are lovely, dark and deep. But I have promises to keep, and miles to go before I sleep. – Robert Frost
Have a good day. Keep reading Nagpur Today.
– Kumar Neelabh