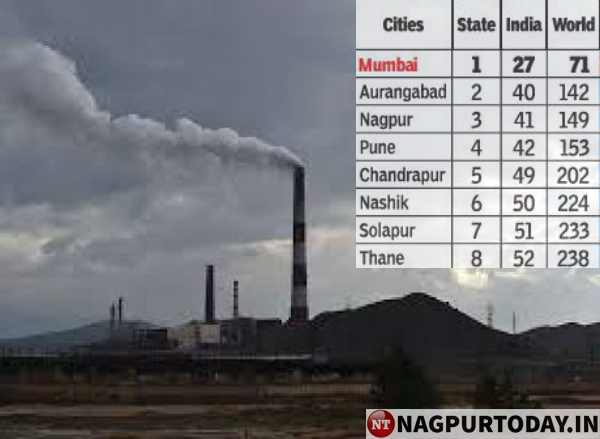 Nagpur: Mumbai was the most toxic city in the state and 71st most polluted in the world in 2018, according to new data released by IQAir AirVisual and Greenpeace. The state capital was more polluted than Beijing which used to be the world's most polluted city some years back.
The report has analysed eight cities of the state based on 2018 air quality data from public monitoring sources, including government as well as private monitoring networks. It measures the levels of particulate matter (PM) 2.5 — a deadly pollutant that can get into lungs and cause serious health problems.
Swiss company AirVisual has been providing air quality data in real time since 2015. But this is the first time that they have analysed the global data and released the findings along with international NGO Greenpeace.
The global database revealed that the 2018 annual average of Mumbai was 58.6 micrograms per cubic meter (mpcm). This is more than five times the safe limit of 10 mpcm prescribed by the World Health Organization (WHO) and nearly 1.5 times more than the permissible limit of Central Pollution Control Board (CPCB). Mumbai emerged as the 27th most polluted city in the Next in line was Aurangabad, with its annual PM2.5 average increasing from 39.6 mpcm in 2017 to 47.4 mpcm in 2018. Nagpur, the third most polluting city in the state, saw a decrease in the pollutant's level — from 56.2 mpcm in 2017 to 46.6 mpcm in 2018.
The least polluted in the state turned out to be Thane, which was the country's 52nd and world's 238th polluted city.