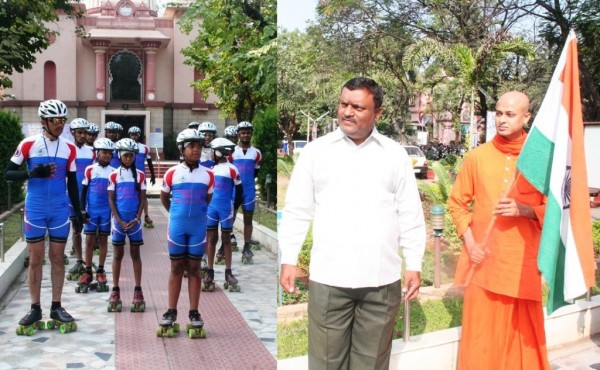 Nagpur News: The rally of skaters from Kanyakumari to Nagpur, orgganised by NMC to mark the 150th birth anniversary of Swami Vivekananda, reached Hyderabad from Kurnool on the 6th day of its journey, starting at 8:30 am in morning from Ramakrishna Seva Samiti Bhavan Kurnool.
The rally was started fromDeviPadmavatiTempleand Navgragh temple Kurnool. The rally was flagged off by Hemant Kumar and Shradharamurthy; committee members of Padmavati temple and other respected citizen of Kurnool were present.
After covering a distance of 210 km, the rally reached Hyderabad in the evening, the temperature was very high, but the sprit and energy of the skaters beat the hurdle of temperature and reach Hyderabad at 8:45 pm.
The rally night stay was at shri Ramkrishna Math, Indira Park, Hyderabad.
On 8th Jan Ramkrishna Math had arranged a youth festival at their premises. The organizer of rally Dayashankar Tiwari and the participants from rally were felicitated by Swami Shamshiddhanand of RK Math in the presence of thousands of youth. In his guidance speech Swami Dipenji said, "Stand up, be bold and strong. Ake the whole world's responsibility on your shoulders, and know that your are the creator f your own Destiny. All the strength and succor you want is within you, therefore make your own future.  Arise, Awake, and stop not till the goal is reached."
Organizer of rally presented vote of thanks to all the dignitaries from RK Math for making good arrangements for accommodation and food.
The rally was flagged off by Swami shamshiddhanand and it  moved on its 7th day of its  journey  to kamareddy were shri ashubhai, shri dinesh bhai, shri raj singhania, BJYM district president shri vijendra yadav welcomed the skating rally and and gave shri Ganesh idols to Dayashankar tiwari and gave flower bucket to every participant of the rally. The night stay was arranged at Radhakrishna premises at Kamareddy.
After covering 1373km journey, today the rally will move on its 8th day of journey to Nirmal.