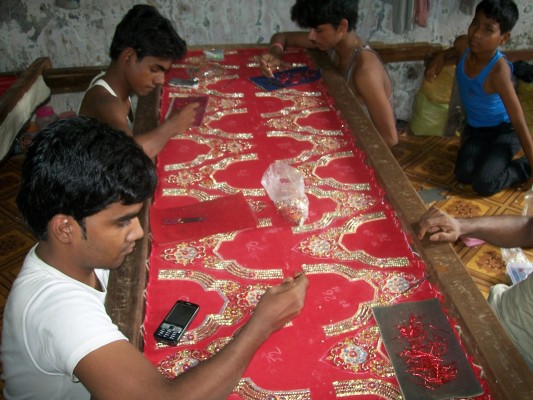 Nagpur News: Two eight year olds, who were being held as child labourers by a man for four months, were caught by the GRP police when they tried to escape and returned to their exploiter.
Nadim Salem and Mohammed Ikhtiyar had come to Nagpur from Sitamadhi, Updi Village in Bihar four months ago and have been working under Armaan Seth, adding Zari borders to saris at his workshop in a slum in North Nagpur. Large amounts of hard work would earn them Rs. 50 and innumerable insults each month. The children decided to flee back home, and even managed to reach Nagpur Railway Station without being caught by Seth.  However, a female constable of the GRP noticed them on Platform 4-5 just as the Nandigram Express was about to leave, and took them to the GRP office. Taking the children into confidence, she managed to extract the entire story from them.
Nadim told her that the children are two brothers and one sister in all. Their mother is a labourer and their father falls ill constantly. Mohammed had a similar story to tell. The police made full preparations to send the children to Vardaan Child Line, after putting them through a medical check- up. Both children were trusting and enthusiastic, and answered all questions put to them without any hesitation. Their statements were even put on record, and a complaint was lodged.  In the meanwhile, however, the phone number of the kids' father was found upon the children, and the police contacted the number. He claimed to be working in Mumbai, and assured the police that he would reach Nagpur the next day and take custody of the children.
By this time, the exploiter Armaan Seth reached the station, and claimed that both the children are his brothers. The police asked the children to identify whether the man was indeed Armaan Seth, and whether he really was their brother. Even though the children were visibly scared of Seth and couldn't manage to utter a word, the police handed them both back to Seth. Whether or not the children are related to Seth, and they address him as "Armaan Seth" if they were, are some of the many questions that the police should have asked, but didn't.
The same police officials who were considering the help of a child helpline, turned round and handed two victims of child labour back to the man who had been exploiting them, simply to wash their hands off their matter. It is unclear how many children are employed by Seth; it is a serious crime that should have been investigated further by the police. Child labour is against the law, and a serious offence. The GRP ended up doing nothing about them.