Sanitary workers risk their lives sans protective gear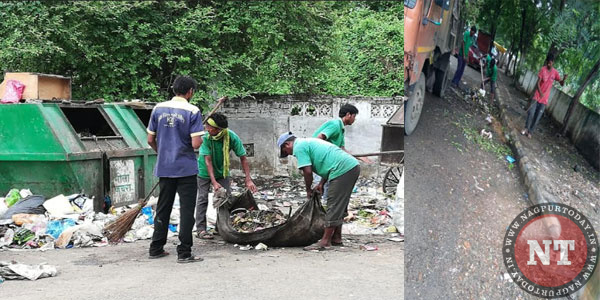 Nagpur: To promote the Swachcha Bharat Abhiyaan, many film stars and politicians played their parts mostly by clicking selfies and shooting videos of cleanliness drives, which seemed deception and far away from the reality of Swachcha Bharat. In the real life, though, there are a few heroes, who work for this project not only to archive that mark of Swachcha Bharat but also to earn livelihood for their families with minimum wages and paltry resources.
Ravindra (name changed) has been working as a waste-picker in the city for over 17 years. He started doing this job for a living since nobody would give him work. "My son was very small then, and citing that reason too, nobody would give me work. At that time, one of my friends taught me waste-picking. Using this as my only source of livelihood, I was able to raise my child," he says. Ravindra is not an exception. Waste-picking is a job that many end up doing due to lack of other options.
However, what is appalling is that Ravindra and his colleagues work without any protective gears causing them direct exposure to waste products. When asked about the protective gears, he retorted with a quip, "Now that I've acquired the essential resistance, the garbage and its gases can't harm me. I don't need any protective gears."
He added, "The administration has enrolled us but we never had any training on use of gloves, shoes or the mask," he said and added that the protective gears provided by the NMC could barely run for a month. "Although normal garbage doesn't affect us, but case is different when it comes to collect rotten garbage. The rotten garbage emits methane gas (CH4), which is quite hard to cope with," Ravindra said.
The blame game
While denying all these charges, the supervisor of Kanak Resources Management Limited told Nagpur Today that, "The workers don't feel comfortable working with protective gears. But I can assure you that the quality of protective gloves and masks is good."
Doctor Nisha Bhushan said that in any case hand-handling couldn't be recommended for any garbage-pickers. "These workers are prone to all possible kind of infections, right from air-borne infection to contaminations. They have huge chance of getting TB, hepatises, malaria, dengue, cholera, etc," she said.
The doctor said that the workers should at least take health check-up every six months with a routine tetanus injection and weight records too. It was the sole responsibility of the company and NMC to keep a watch on the health of these workers, said the doctor.
A source informed that total 1,700 workers work across the city for garbage disposal with underpaid wages and undervalued lifestyle. They have been promised modified salary as per new pay scheme, but it's been over a year and they are yet to receive benefits. As apathy of the administration perturbs these workers, the responsibility of their families somehow alleviates their aghast.
– Shubham Nagdeve