Nagpur: Poor condition of roads make life miserable on Lakadganj-Shukarawari road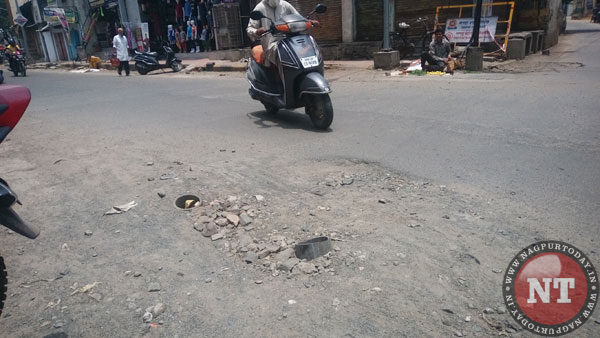 Nagpur: It was an usual Wednesday morning on Lakadganj-Shukarawari road until, to avoid damage from the giant pothole an autowala robustly hit his breaks however his sudden pause, forced a motor cycle bumped into his auto triggering a series of accosting, threatening among them near Natraj Talkies. When approached to a pedestrian it was learnt that this act was custom on this road.
Commuters travelling with Gangabai Ghat road comprising Kalyaneshwar Madir and Gandhi Gate have to negotiate extremely hazardous roads condition with minor accidents and fights are mandatory on this boulevard. These roads famous to be in particularly bad shape, due to negligence of Nagpur Municipal Corporation's (NMC) officials and local civic body, possess danger to life and property informed a local.
"Whenever I go to school to drop my children. I have to struggle to walk through roads pockmarked with potholes in the area. In the absence of footpaths we have to walk on roads. Vehicles appear to run over is anytime. We have filed many complaints in NMC also requested our local corporator but in the name of relief we just get an assurance," he added.
One source told Nagpur Today that this road was constructed 10 years back. Since then NMC officials and local civic body are just filling the potholes and creating asphalts pavements over the roads in the name of repair even after filing several complaints.
Lakadganj-Shukarawari square road tends creates many obstacles with shops along sides, no footpaths and being narrow in functioning. However to add woes in this dubious spot city buses and regular commuters sparks new tension of the traffic in absence of any traffic officials to manage the traffic between the peak office hours.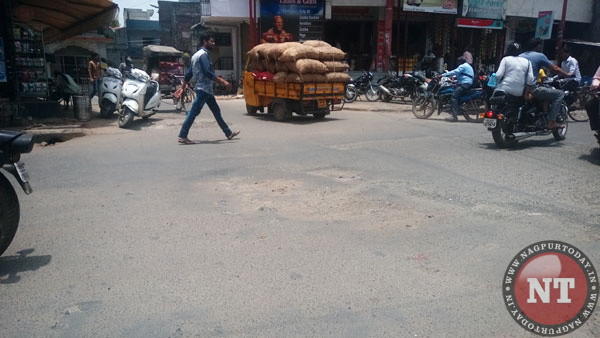 This stretch is full of potholes and asphalt with laying underground electric lines and poor co-ordination among agencies were primarily responsible for the bad condition of roads. The residents have demanded that civic agencies should focus their energies on alleviating their woes rather than advertising false development claims.
Shubham Nagdeve