Nagpur News: The Commissioner of Police K K Pathak, Joint Commissioner of Police Sanjay Saxena and other top police officials visited Futala Lake and reviewed security and other arrangements in view of immersion of thousands of Lord Ganesh idols. The 10-Day Ganesh festival concludes tomorrow.
The Second Capital – The Orange City – Nagpur City – has turned into a fortress with massive security forces dotting every foot of the places as the 10-Day Lord Ganesh festival nearing completion and now, the day has arrived to give farewell to the God of Wisdom, Vighnaharta and other numerous names the devotees chant of their Dearest God. The Lord Ganesh arrived on His 10-Day Earthly Sojourn on September 9 bringing with Him the Divine, joyful, ecstatic moments which the lakhs of devotees cherished in the religious fervour. Now, the same devotees including the kids, youths, men, women and the elders, would bid adieu to the Vighaharta with moist eyes, heavy heart and a wait for the next year when the God of Wisdom will arrive answering the prayers "Ganpati Bappa Morya, Pudhchya Varshi Lavkar Ya."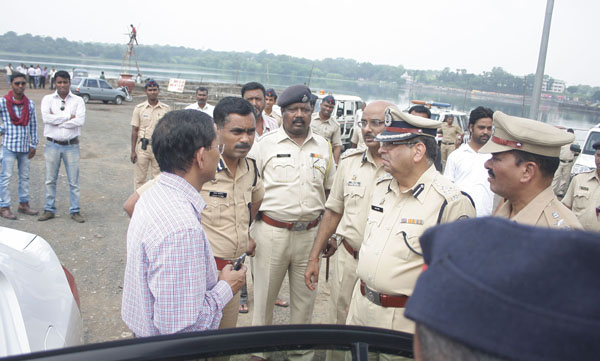 The Nagpur police have gone on alert mode and have made tightest ever security arrangements for peaceful immersion of Lord Ganesh idols. Thousands of policemen in uniforms and plainclothes have been deployed across the Nagpur to maintain a strict vigil. The Intelligence agencies have been keeping sharp eyes on every suspicious activity. Preventive arrests of the history-sheeters have been done as all-out efforts to avert any untoward incident.