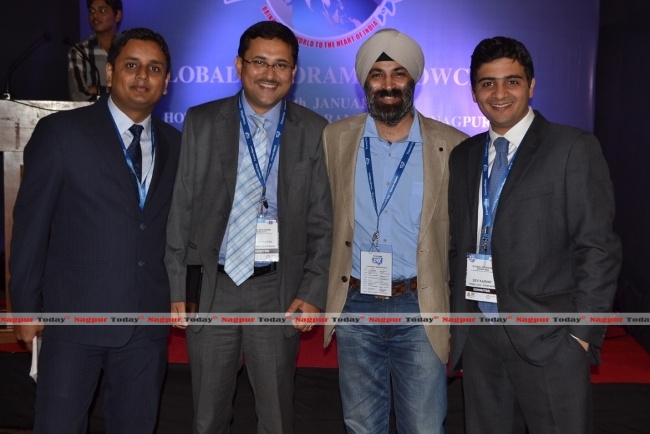 Nagpur Today while trying to interact with the participants of Panaroma Global Showcase who were showcasing their products of Aviation and Tourism, came across various facts about the tourism industry and their fondness for the potential Nagpur Market! The Panaroma Global Showcase (GPS) was jointly organized by Jagsons Travels Pvt. Ltd. and Ent Reps. Most of the participants were enamoured by this region and the practically virgin territory which has not been tapped yet by the Tourism and Aviation Industry as yet. They rued the very fact that they have delayed tapping the natural resources and scenic beauty that could be showcased to the world. They also opined that the denizens of Tier two cities should be tapped for global travel and tourism. Some went on to joke about the fact that the Sedan class Mercedes Benz which was launched in India got sold in 48 hours in Aurangabad.
The day-2 of the Global Panorama Showcase witnessed a paced enthusiasm amongst everyone present. Aviation students, guests and the invitees, agreed to the fact that GPS has proved to be one of its kind trade show in Central India that serves as an ideal platform for quality agents, buyers and suppliers to fortify relationships simultaneously.
The second day of Global Panaroma Showcase was entirely dedicated for the B2B sessions. Many agents from the city had mutually beneficial business agreements and sessions that enhanced the knowledge base and the immense possibilities that lie with global tourism for the denizens of this region.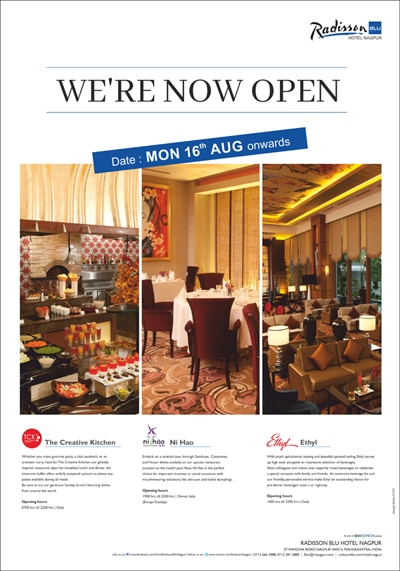 The Managing Director of Jagsons Travels Pvt Ltd Harminder Singh Anand who is organizer of the Global Panaroma Showcase even excerpted that through this event they have even been successful in generating job opportunities for the youth of this region, by letting a direct interactive session between the learners and educators take place.
A risk free experience of adventure now from TrawellTag, asserted Managing Director of Dev Karvat: "Continuing to cover more Adventure Sports Plan, here on, the people of Nagpur can enjoy a risk free experience of adventure while travelling abroad with the TrawellTag Cover-More's Adventure Sports Plan. This innovative plan is introduced for the first time in Nagpur and protects travellers across wide area of adventure sports such as paragliding, bungee jumping, mountaineering, rock climbing, adventure racing on land and water, scuba diving, kayaking, surfing and yachting to name a few." However he positively mentioned his appreciation for the Nagpur locals, business entities and the GPS organizers quoting, "This one sure was one of its kind! Under one roof, this proved to be an apt meeting point for one and all. This was indeed an event to watch out for, that introduced innovation out of the box! Thanks to Harminder Singh Anand and his team. We have successfully imparted knowledge that was required to be shared in order to let people know ample things which they remain unaware of form this sector!
General Manager of Taj Hotels Resorts and Palaces Christopher Viegas said that Nagpur is certainly the next step. He said that they have received good queries, good interacting sessions with fellow participant as well as the local agents. It really was a wonderful opportunity to meet people here. We're reinforcing the trade and business expansions that we had envisioned from the last visit. We fly and tourism all over in the world.
Marketing Manager of Tourism & Events Queensland Ryna Sequeira opined that Nagpur has always been an important market for us. It was very nice. Queensland. It's a place that they would want to visit. Sell something different. They see a very good potential in Nagpur market. Though these tours are expensive but people have spending capacity in the Tier II cities.
Director of Sales of Jumeirah Maldives (Hotels and Resorts) Simmi Soodan said that she has come from Maldives only because Nagpur is a potential market. She said that the people of this region need to be educated about the various tourist destinations across the world. She felt that Maldives too is a very good tourist destination which the people of this region would love to explore. Mutually, the denizens of Maldives too can explore the tourist destinations of this region. She reiterated that they really care about the Indian market!
General Manager of Akquasun Holidays Indian Pvt Ltd Shafakat Khan opined that he enjoyed coming to the city and participating in this expo. He said that such kinds of event have definitely enhanced his own knowledge and trade opportunities in this region.
Senior Tour Executive of Tour Oman Air Baber Zaman Khan said that Oman as a tourist destination is not known much among the globe trotters. The key factor to Oman's Tourism is natural beauty and the scenic places where one can forget all the worries and enjoy God's beautiful natural beauty. Often we get to see places that are man-made, but seeing natural creations and beauty can enliven you and give an ethereal pleasure. Vinod boasted of the endless beaches, scenic- desserts, High-mountains all at one destination where one saves time and money. He added that the destination in Oman doesn't make you travel much, yet one gets to enjoy natural beauty.
Senior Sales Manager of the Emirates Vikram Paul who was one of the team members of Director Sales of Emirates Sunil Kaliyat said that they while they were exploring the possibilities of enhancing the reach of Emirates in India, they found the Central India and this region a practically untouched one. They want to explore the heart of India with the Zero Mile present in Nagpur.
PICS BY : Amol