Nagpur: Narendra Nagar residents stage chakka jam against NMC drive

Nagpur: The residents of Narendra Nagar on Thursday staged chakka jam when the anti-encroachment squad of the Nagpur Municipal Corporation (NMC) reached the area to raze down three temples and two Buddha Viharas. Looking at the strong protest, the NMC squad had to return without clearing the encroachment.
The elders, youth and women residents from Narandra Nagar assembled in large numbers and blocked the road and flyover going towards the airport for almost three hours. The traffic was completely affected and heavy police bandobast was deployed at the area.
The protesting residents said that those illegal religious structure hampering traffic movement or development works be demolished but those in residential areas be spared and regularized.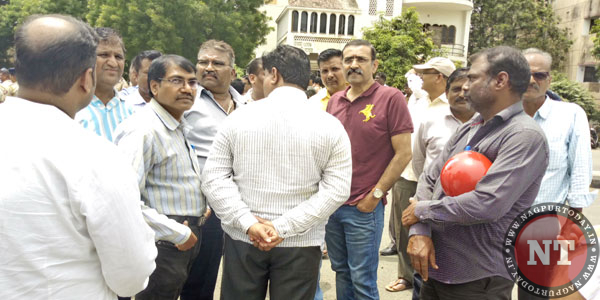 Following court orders, the NMC has started the campaign to demolish illegal religious structures from across the city. However, the drive is facing severe protest from residents and political leaders. On Wednesday also, the NMC squad faced opposition when it went to demolish Datta Mandir on Amravati road.
Those participated in Thursday's protest along with Narendra Nagar residents included NMC ruling party leader Sandip Joshi, former Mayor Pravin Datake, ex-chairman of NMC's standing committee and corporator Avinash Thakre, corporators Vishakha Mohod, Sandeep Gawai and Jayashree Wadibhasme.