Nagpur: It is hardly 5 to 12 Kms away from any part of Nagpur city, but 'little wood' being developed by Nagpur Metro will transport you to another world. A magic world!
Tired of the horns, the traffic and the noise pollution of the city?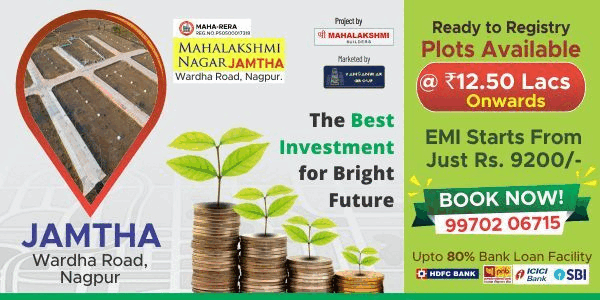 This place won't offer you complete silence but soothe you with the cooing, trilling and whistling of not a few, but 31 different species of birds.
You will meet here the Great Cormorant, the Open billed Stork, the Grey Herons, Spotted Owlet, lush green parrots, Large Egrets, Lesser Whistling Duck the Indian Courser and many others… and ohh yes! Now that monsoons are near, if you are lucky you may also get to say Hi to dancing peacocks.
There are 38 varieties of trees growing up here; they are still very young, but quite sturdy, and some like the Singapore Cherries have already borne fruit. What with the 'backwaters of Ambazari lake and this growing urban forest, all varieties of birds have already made it their home.
Where is this paradise?
It is behind Ambazari lake catchment area, accessed from Vasudeo Nagar, MIDC Hingna road, Forest gate number 3. It is hardly 200 to 300 meters away from the main road and there is a sign where you turn right telling you 'little woods' is right ahead!
It took us all of 15 minutes to get there from VNIT area.

A creation of Maharashtra Metro – perfectly planned and executed, as is their habit!
As laying out the metro network across the length and breadth of the city entailed cutting down of some trees, Maharashtra Metro was obliged to do the mandatory tree plantation to make good the loss of the green cover.
The maximum number of trees that may be cut down does not exceed 330 – and Mr. Dixit , M.D. of Maharashtra Metro, will try his best to save as many as he can we are sure. According to rules they need to plant 3 times, which is 900 new trees.
But Metro is giving Nagpurians a total of 5496 trees – five times more than required!!!
"We have taken this as a mission, we are not doing it as a formality" stresses Dr. Brijesh Dixit, whose commitment to excellence we have already seen.

"Which city can boast of two forests right within the city? We want to not just conserve but increase Nagpur's forest cover. This project of ours 'little wood' will be our gift to people of Nagpur -once the trees are mature and able to survive on their own, we will hand it over to people of the neighborhood to further nurture and preserve. We want them to take 'ownership' of this beautiful place which is being created for them." Says Dixit.
Almost 100% survival!!!
We have been seeing and reading about the dismal rate of survival of saplings planted during the sporadic 'tree plantation drives' which are mostly photo opportunities for politicians and local leaders. Ironically even plantation done by Forest Dept. itself does not have a great survival rate. If even 20% or 30% saplings survive, it is considered a good number!
Compare this to almost 100% survival rate of the Metro effort! That is because they do not things in half measure.
When Metro was given this spot by the Forest Dept. they first did a complete survey: they tested the soil, the lay of the land ( which way it was sloping etc.), the kind of trees that are already growing here or are native to Central India.
They zeroed in on 38 varieties of trees – all local.
A diversity was chosen. Flowering trees, fruit trees, Deciduous (ever green) trees and trees that have the potential to grow to different heights. The taller ones were kept on the periphery and care has been taken to give each 'sapling' the space it deserves.
Thus there are 208 Amaltas ( fire of forest) trees, 124 Mahagoni, 133 Wad, 243 Neem, 407 Gulmohar, 276 Jamun, 94 Mango, 90 Amala, 137 Singapore Cherries, 120 Bakul, 65 Jack Fruit, 150 Jungle Jalebi, 248 Badam, 204 Arjun and many other kinds.
The total, as we mentioned earlier is 5496.
The area given for plantation was 30 Hectares, of which area under plantation is 24 Hectares.
The rest is used for making multiple walking paths – and all will remain strictly 'mud'.
"No cement or tar or any artificial material will enter here!" says Dixit. "Besides, walking on such roads is better for your knees, 'pucca' roads play havoc with your bones!"
Since the land slopes towards the lake, a number of nallahs have been built and existing, natural ones re enforced. This way there is efficient drainage of rain water and it will flow into the lake. There are about 3 kms of walkways and 31/2 Kms of nallahs.
The natural beauty of the place and the already existing trees are being preserved with the 'respect' they deserve. In fact, they are being highlighted!
For instance, at one tip of Little Wood, right by the lake waters there is a copse of shrubs gathered in a circle with a shaded cool spot in between. Ideal for picnics… some signs of a make shift 'chulha' shows people are already using it as such. Metro has decided to clean the surrounding areas of undergrowth and dead wood so that the picnic site is easily accessible and highlighted.
At another point, which offers great view of the lake, they are going to build a 'pagoda' and at a place which is lowest, a pond is being created.
Saplings brought from Rajmundhry in A.P.
Since they needed a large number of saplings, and of a very diverse nature, they decided to get them from A.P. which has huge nurseries and do gardening and 'forestation' jobs professionally.
Piyush Kale, the young man who has been contracted to plant and look after the saplings reports that in readiness of the saplings, they dug deep holes and used 1650 trucks of black soil and 400 trucks of manure to prepare a good, fertile 'home' for the trees. Fungicides was also used to protect the roots. Only then were the saplings planted last July (2016).
Initially they were watered daily with tanker water. Now they are installing a drip system for all the trees. (Consultancy from an Israeli Company.)
92% of the saplings survived the first few months. Those that perished were replaced immediately, so there is no 'blank spot'. The young trees, many of which are over 5 and 6 feet tall are being supported by wooden stakes. When they were very young, each sapling had a green canopy over it to protect is from harsh sunlight.
One can see the care and tenderness with which the plants are being looked after and they are reciprocating by developing well and already offering a haven to so many exotic birds. Some small animals like wild boar, rabbits are also spotted sometime.

When we went there in the morning, we saw some families, women and children going back from their morning 'walk' in this urban forest. Serious joggers were also spotted using the pathways.
Much later, a septuagenarian looking old man made his way in with his walking stick.
"What's your name?" we asked.
"Dr. K.B. Kolhe, I live just outside, over there" he said proudly and a little rigidly.
"How do you find this place for your morning walk?" We ask.
"Hmmm…it is shaping up well" he says first, and then probably recognizing Dixit, he nods his head and says " very nice, thank you!"