Nagpur Ladies Circle to hold charity Ras-Garba

This Ras Garba programme is done to raise funds for the education of under-privileged children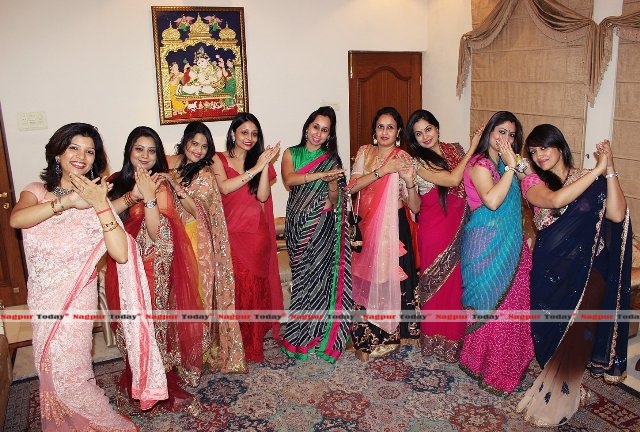 Nagpur: The Ladies Circle-50 is said to 22 years old in the city. The members of the Ladies Circle include wives of all the members of Round Tables in Nagpur. Unlike the Round Table which has different numbers, and different activities, the Ladies Circle-50 has members who are wives of all the members of all the Round Tables in Nagpur City.
The Ladies Circle too raises funds for the education of under-privileged children. While the Round Table raises funds to build class-rooms, toilets and compound walls, the Ladies Circle raises funds for stationery, books, tables and chairs, Books for the Library, Computers, fans and lighting arrangements etc for the under-privileged students.
The Chairman of the Ladies Circle Deepti Pandhi while speaking to Nagpur Today said that this year, they have adopted a school in Khapri called Saraswati Shishu Mandir.
Treasurer of the Ladies Circle Sumati Agrawal and Vice-President of Ladies Circle Isha Agrawal claimed that till last year they used to observe a Pre-Karva-Chauth called "Sajna Di Sham". However, after deliberations with the members, this year, they have decided to host the (Charity Ras Garba) titled "Garba Ni Sham" for girls and women. This event is going to be hosted in Centre Point Hotel in the city on October 16, 2015.
The event will start at 3 pm in the afternoon and will go right up till 8 pm.
The event will start with lighting the Traditional Lamp. Later the participants and guests will be tying a ribbon on a tree at the venue to symbolize their contribution and aim to ensure peace and harmony in the society.
One of the active members of the Ladies Circle Kuntal Agrawal said that this event also aims at establishing and retaining the bonding between Mother-In-Laws, Daughter-In-Laws and daughters.
During the event, the goods donated by the members of the Ladies Club which will include Paintings, Murals, Ornaments, Dresses, Designer Jewellery, Designer Cloth and many other goods. The entire proceeds of this auction will go towards the charitable tasks undertaken by the Ladies Circle.
On October 11, 2015, the office-bearers of the Ladies Circle assembled in the residence of Treasurer of the Ladies Circle Sumati Agrawal to review the preparations. They also practiced the Garba steps. As a gathering, they decided to uphold the tradition of tying the knot on a tree for global peace and harmony.
– Samuel Gunasekharan

PICS BY : Atharva Chandorkar