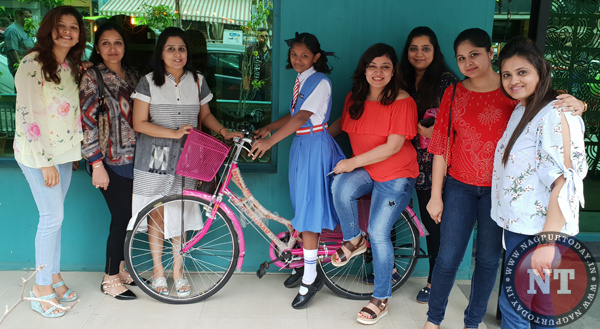 2018-2019 is Golden Jubilee year for Ladies Circle India and silver jubilee year for Nagpur Ladies Circle -50
First Initiative for the year " HER MOBILITY " empowers the women hood by donating Cycles to girl students going to schools or colleges.
Ladies Circle India sponsored 50 cycles to first 50 applicants. Where in NLC -50 received the Grant for the cycle. On 13th of July 2018, NLC-50 donated first of these cycles to Anshu Patil a 14yr old girl going to St. Ursulla School, similarly many more cycles were and will be distributed. Cr.Dr.Farheen Rana ( Chairperson) ,Cr.Disha Gopalani ( Immediate past chairperson) , Cr. Dr. Saakshi Diwanka (vice chairperson) ,Cr.Isha Agarwal (treasurer) Cr.Esha Agarwal,Cr.Deepti Nangia,Cr.Deepshika Thakur, Cr.Suumati Agarwal were present at the event.