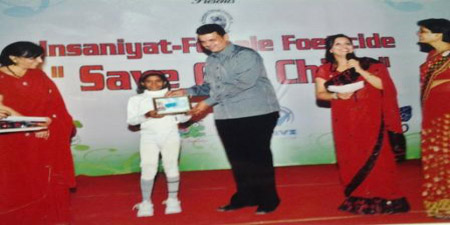 Nagpur News:  INSANIYAT – an event to save girl child was organized by Inner wheel club of Nagpur east at Scientific Society Hall, Laxmi Nagar .
20 girls from Nagpur who have represented  and brought laurel to the at state, national and International level  were honored by  the hands of Hon. Devendra Fadnavis ,chief guest  of the events while the Dr. Ashok Adhao was special invitee of the function.
Beautiful sensitive and heart touching dance drama was presented by the student of Government medical college. Among the girls who were felicitated were, Dance Category – Ms Amruta Joshi,Ms Vaishnavi Panbude,Ms Khushi Jaiswal & Ms Shruti Kalamkar,Karate Category – Ms Manasavi Kothari,Ms Palak Kothari,Ms Manasi Mundle,& Ms Sakshi Trivedi,Music Category – Ms Shruti Krishna Kumar,Ms Shweta Raghu,Ms Krithika Iyer,Sports Category – Ms Harshada Damkondwar(Fencing),Ms Sarwari Vinay Bhupat(Skating),Ms R Naglaxmi(Chess) ,President Awardee – Ms Maitriyee Ghanote,Art Category – Ms Anjali Sahu,Zeenal Razani,Academic Category – Ms Siddhi Janbandhu,Ms Sayalee Pathak & last but not the least the participant who was show stopper was Guinness  World Record Holder for Shortest Women on Earth Ms Joyti Amge.
While addressing the gathering Hon Devendra Fadnavis praise the efforts of Inner Wheel Club for organizing such a beautiful program addressing a very important issue like Save Girl Child, He said that such awareness is necessary for our society to change their view towards the girl child and give them equal opportunity to rise & shine. While viewing the program he was so engrossed with the cause that he cancelled one of his prescheduled programs which were slated after the same.
All members of Inner Wheel Club had put their efforts to make the program a big success. Project Director Ms Vandana S Sharma extended her soulful gratitude to all those who came in support of such a cause & have urged all government bodies to come forward for support next year onwards.Ms Neelima Malani – Prsident IWC,Ms Anita Jain – Secretary IWC,Dr Vimla Jain – IPP, Ms Varsha Panbude, Ms Seema Agrawal, Ms Aruna Pasari, Ms Jyoti Chhabria, Ms Swati Sarda, Ms Usha Bhojwani ,Ms Nisha Dua were present apart from huge crowd who witnessed the event.